Game 2 if the NBA Finals ended with a victory for the Warriors. How they got that victory was nothing short of impressive.
Every player stepped up when they were needed most. Gallant efforts from DeMarcus Cousins, Draymond Green, Quin Cook, and (of course) Andre Iguodala made for an all-around team performance in the wake of several important injuries.
But it was not without controversy, as these things usually go.
While Curry was on the bench during the opening minutes of the fourth quarter, fellow point guard Quinn Cook drained a much-needed 3-pointer in front of the Raptors' bench area, and Curry rushed over to congratulate him. The problem is, Cook was still on Toronto's side of the court, meaning Curry rushed over to that side from the scorer's table (he was about to check into the game) to celebrate Cook's shot.
Steph Curry ran all the way down the sideline to celebrate with Quinn Cook. pic.twitter.com/NpTIuCu6Ep

— ESPN (@espn) June 3, 2019
While he was at it, he accidentally stepped on the court — right in front of the official.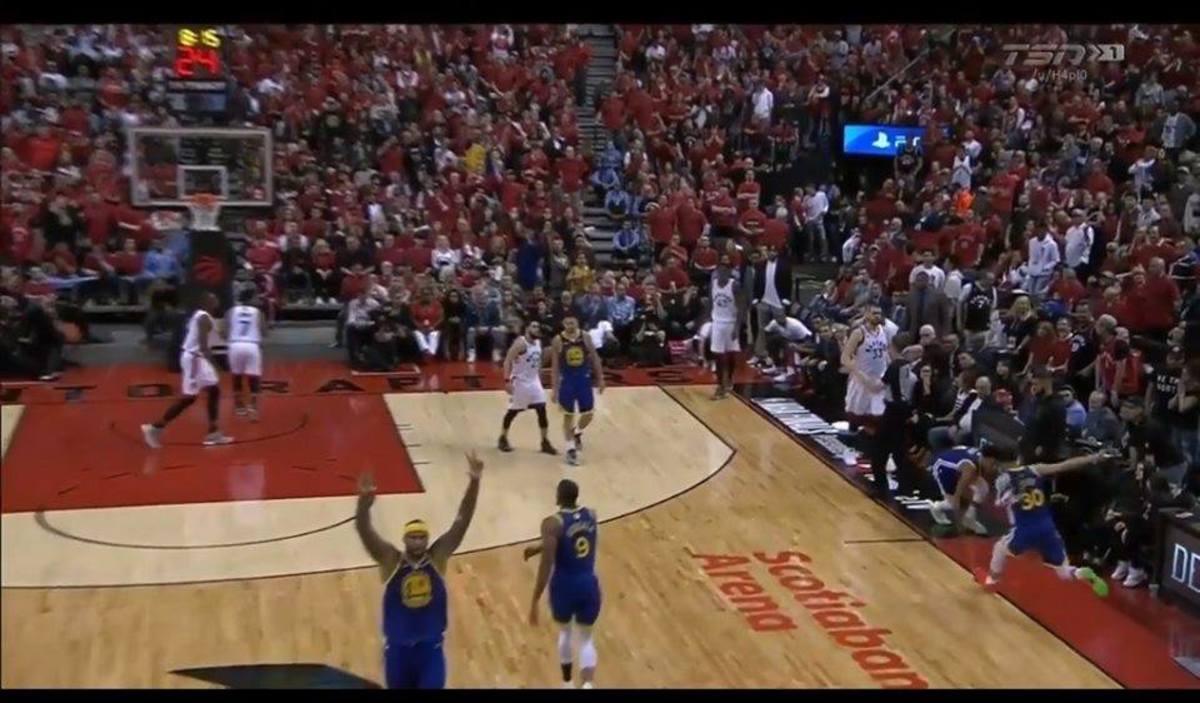 Technically, Steph went out to celebrate during live game action. Granted, this takes nothing away from the Warriors' victory here and it will not change the results. But there is a case to be made that Curry should have been called for stepping onto the floor and celebrating a little too early with his teammate.
So Curry just ran on the court to celebrate with Cook during live play.. what y'all gonna do about that? @NBA @OfficialNBARefs

— Patrick Patterson (@pdpatt) June 3, 2019
For the Raptors, though, they will not use any excuses. As they enter Game 3 in Oracle, they will look to capitalize on the opportunity to take a 2-1 series lead over the defending Champs.