It looks like Kevin Durant is not over with the Golden State Warriors and all the things he lived during his days at the Bay. Durant has recently announced that he will be joining the Brooklyn Nets ahead of next season after three years with the Dubs, where he went to play three consecutive NBA Finals, taking the Larry O'Brien home in the first two.
However, during the last postseason, Durant got injured and let's say his situation wasn't handled the best way by the organization and now it appears like he has some hard feelings towards the Warriors and the team's decision to play him in the NBA Finals against the Toronto Raptors.
Durant played in the fifth game of the series before a calf injury was fully healed and ended up rupturing his Achilles, which will make him miss the entire 2019/20 season, his first playing with the Nets.
On Sunday, the 10-time All-Star appeared to "like" an Instagram post from Barstool Sports, which claimed he would miss the upcoming NBA season "due to the Warriors incompetence."
KD throws shade at Warriors on his way out. Check out who 'liked' the post. pic.twitter.com/IbhF0vD6KR

— The Sports Daily (@SportsDailyBlog) 1 de julio de 2019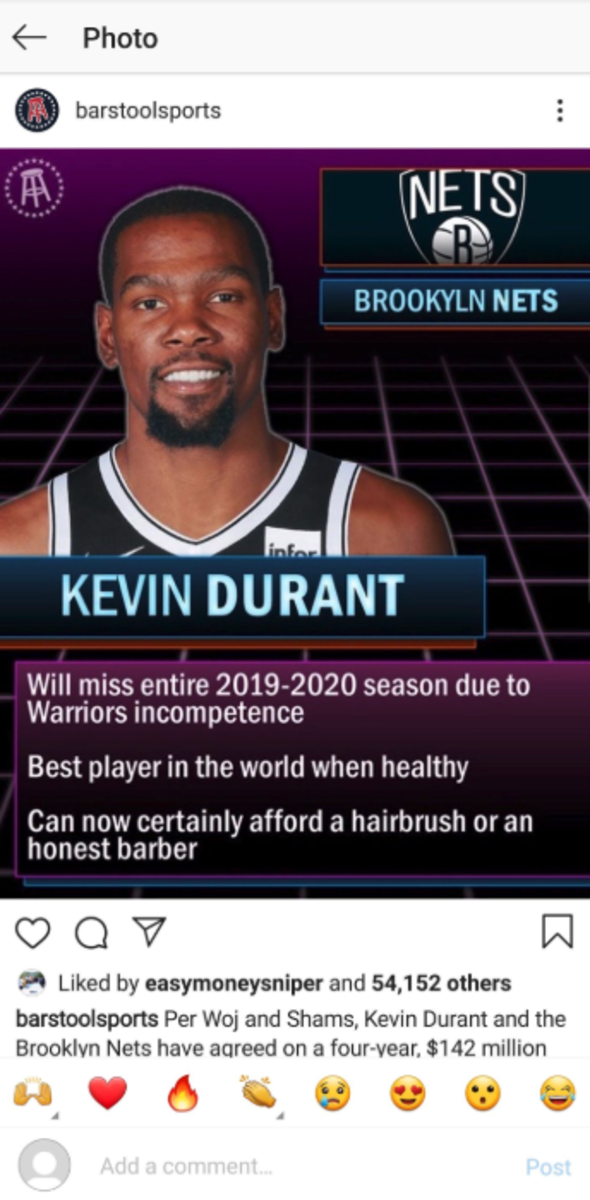 Of course, perhaps he liked the post because it called him the best player in the world when healthy or thanks to the jokes they made about New York barbershops and Durant's hair, but if he simply liked the post because they called out the Warriors' "incompetence," now you know why he made the decision to leave the Bay in the first place, where he was set to make $221 million over five seasons on a perennial contender team.
Still, he chose to go to Brooklyn anyway, as they weren't worried about his injuries and ended up agreeing to a $164 million deal over four years and will use the 2019/20 season to rehab his Achilles.