Football is about cycles. You can see managers ending one after years of success, players who decide to leave one team because they want to see different things and face new challenges, but sometimes cycles have to be restarted because things didn't go the best way for them.
We have seen this plenty of times, with footballers who chose to leave teams where they were great figures and returned to those place unexpectedly and sometimes within a year or less. Some of these cases have been famous because some players' careers were never the same after a bad tenure with a club.
With players like Neymar and Paul Pogba getting close to a potential return to their former clubs, today we're going to take a look at some of the cases in which players regretted leaving the clubs where they shined after a false step in another squad. These are 10 players who regretfully returned to their former clubs.
Honorable Mention: Mats Hummels (Bayern Munich to Borussia Dortmund)

10. Diego Costa
This Brazilian-born Spanish striker was marvelous with Atletico Madrid, taking the team to live the best moments of their history thanks to his goals and good performances. After two years with Los Rojiblancos, Chelsea decided to buy Costa.
With the Blues, Costa went to win two Premier Leagues and one League Cup, but his tenure there wasn't the happiest of all. He had clashed with his bosses, including Antonio Conte, who reportedly didn't have the best relationship with the striker. Conte told him he wasn't part of the team's plans ahead of the 2017/18 season and Atletico stole the player from London in January 2018.
After that, he's done it just great for Atletico, recovering his old form.

9. Nikolas Anelka
Knowing all the teams that Nicolas Anelka got to play for throughout his career, it's crazy to see that he actually returned to one of them. Well, it was his first team as a professional. Anelka made himself a known name in French outfit Paris Saint-Germain long before Les Parisiens were the money-spending machine they are right now.
Sold to Arsenal in 1997, the French striker had two good years with the Gunners, who sold him to Real Madrid in the summer of 1999. From that point, everything went downhill for Anelka, who struggled to find his place in the club, unable to convince the boss and the club's hierarchy to keep him onboard. A year after his arrival, PSG bought him back for €34.5 million.

8. Shinji Kagawa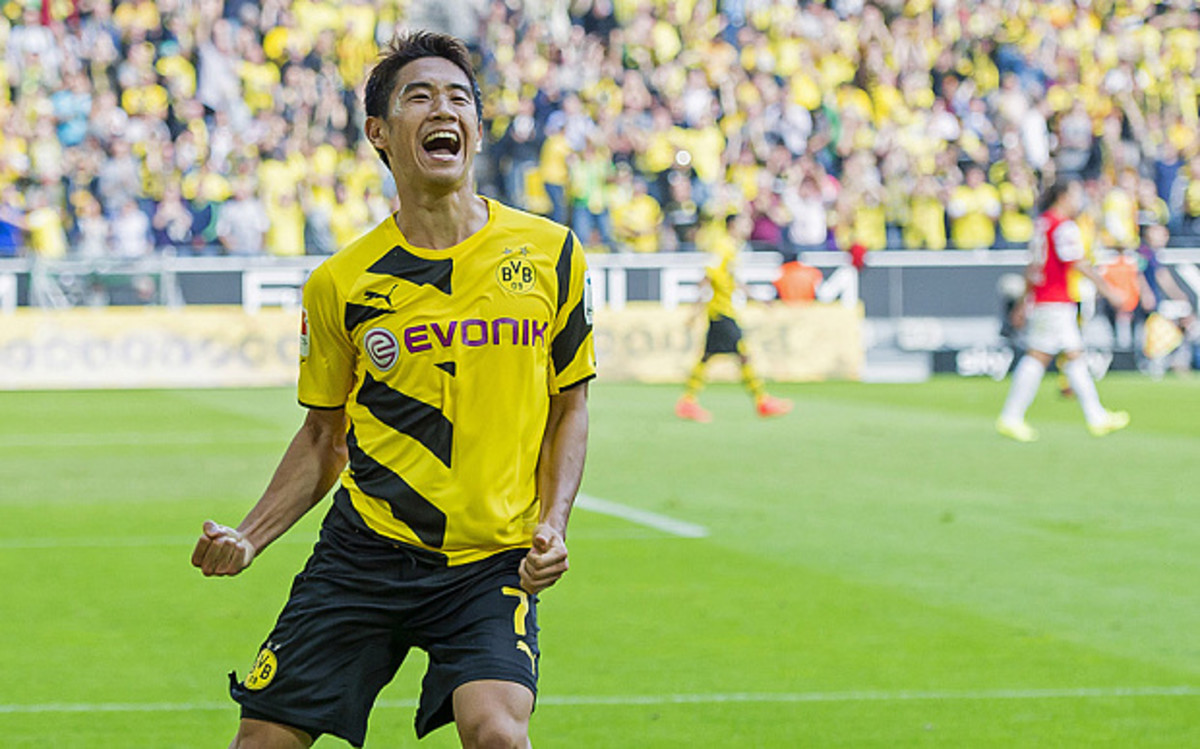 It's fair to say that we're going to see a lot of Borussia Dortmund on this list. That being said, let's take a look at one player who left the Westfalenstadion and returned after a bad experience in a different team, Shinji Kagawa.
Kagawa was part of the Dortmund team that won the Bundesliga in 2011 and 2012, which attracted a lot of attention to him. Manchester United tracked down the Japanese midfielder and lured him to Old Trafford after the 2011/12 season. Kagawa landed in Manchester hopeful to make the same thing with the Red Devils that he did in Germany.
Well, that didn't happen and he spent two overwhelming seasons in England before Borussia came to rescue and re-signed the Japanese.

7. Nuri Sahin
That Dortmund squad from 2010 to 2012 was one of the most talented in German football in recent times, and you can say Nuri Sahin was arguably the most talented of all. This Turkish midfielder was nothing but great with his side during its successful run in the Bundesliga, which made Real Madrid disbursed €10 million to secure Nuri's signature.
However, after a single season at the Santiago Bernabeu, plagued by injuries, Sahin was loaned to Premier League side Liverpool in an attempt to recover his best form. He later admitted he was unhappy in both Liverpool and Real Madrid, and six months after his loan to the Reds, Dortmund received the midfielder on loan as well, before activating a clause to allow the player to make his comeback to the Signal Iduna Park on a permanent move.

6. Mario Gotze
That's right, another Dortmund player. Mario Gotze was one of the most exciting wonderkids when he made it to Borussia's first team; he turned a lot of heads to him, including Bayern Munich's, who didn't hesitate to steal the midfielder out of the Signal Iduna Park.
Gotze went to Bayern to play under Pep Guardiola, but they never clicked and the player had to leave the club after three difficult years at the Allianz Arena. Gotze landed in Dortmund in 2016, trying to revamp his career, but three years after that, he has been unable to do so, mostly due to injuries and his metabolic illness.

5. Filipe Luis
Filipe Luis was one of the best players in Diego Simeone's Atletico Madrid, becoming one of the best left-backs in European football during his first stint with Los Rojiblancos. Following the great 2013/14 season the club had, Chelsea put their attention on him and decided to sign him, hoping to add depth to their roster.
Well, the Brazilian defender didn't have the best time at Stamford Bridge, making only 15 appearances with the Blues in Premier League without scoring a single goal. A single season after he moved to London, Chelsea parted ways with him and sent him back to Madrid, where Atletico waited with open arms. After that, he spent another four good years with the club until this summer he took his talents to Brazilian side Flamengo.

4. Andriy Shevchenko
This case is curious because Shevchenko came back to two teams, where he lived his best moments and the one where he started his career. However, we're going to pick the first one here. Shevchenko enchanted everybody with his goals in Milan, which made Chelsea buy him after seven successful years at San Siro.
Nevertheless, Sheva couldn't have the same success in Chelsea, as he mightily struggled to find a good shape with the Blues. In two seasons with the Premier League side, Shevchenko barely scored 26 goals in 76 matches. He was then sent on loan to Milan before returning to his first club, Dynamo Kyiv, where he ended his career.

3. Leonardo Bonucci
After seven years full of joy with Juventus, Leonardo Bonucci was considered a great figure in Turin, winning everything he could with the Old Lady and getting to play for big things. It was a shock when he decided to leave the club and go to Serie A rivals Milan, which earned him the hate from many Juve fans.
All that hate increased when he celebrated a goal against Juve with Milan. Well, life came fast at him, as he drew a lot of criticism during his time with Milan and had to come back to Juventus just one year after he made it to San Siro. He's not as good as he used to and lost all the respect he'd earned from Juve fans thanks to his decision to join the Rossoneri.

2. Ian Rush
Ian Rush is one of the biggest idols in Liverpool history, responsible for one of the biggest eras in the history of the club alongside his partner in crime Kenny Dalglish. After six glorious years with the Reds, in 1986 Juventus bought Rush hoping to get a great striker in Turin.
Well, Rush was never able to feel comfortable with the Old Lady, scoring 14 goals in 31. Even though that number was pretty good, he never felt as good as he felt in Anfield Road, so when Kenny Dalglish called him to rejoin Liverpool, he didn't hesitate. First, he went there on loan in 1988 before the Merseysiders made it a permanent move the following year.
Read More 
Transfer Rumors: Maurizio Sarri Identifies Premier League Star As 'Marquee' Signing This Summer
He's Staying: Zinedine Zidane Will Give James Rodriguez Another Chance
Mauricio Pochettino Reveals Heartbreaking Story About Losing The UCL Final
1. Kaka
This has to be the most famous and unfortunate case of a player who returned to his club after having an awful participation in one squad. Back in 2009, Kaka was one of the best footballers in the entire world after the good things he did with Milan, winning everything he could, being the biggest figure of the team.
That's why Real Madrid turned their heads to him and decided to spend over €60 million to secure his signature in the summer of 2009. With Los Blancos, he couldn't bring the same quality he brought to Milan and the Brazilian national side until 2009. A stint full of injuries and Jose Mourinho not giving him a lot of chances to display his talents made the Brazilian midfielder decide it was time to return to Milan, the place he never had to leave.
During his first tenure with Milan, this guy was superlative, the most gifted and unbalancing player in the world without any hesitation. Perhaps Cristiano Ronaldo and Lionel Messi would have less Ballon d'Or awards at home if Kaka had stayed healthy and playing the same way he played with the Rossoneri at the beginning. He returned to Milan in 2013 before heading to Orlando City in the MLS.