A lot of the criticism LeBron James receives comes from fans claiming he doesn't show up in big games, even less when the clock is ticking and the ball is hotter than ever. Well, that's far away from reality since James has proven over and over again he's not afraid of big challenges and can take on any rival.
When you take a look at LeBron's numbers in Game 7s, you find that he hasn't lost one of those games since 2012. He lost his first two Game 7s during his first stint with the Cleveland Cavaliers, but after that, James turned things around, never losing a win-or-go-home clash again.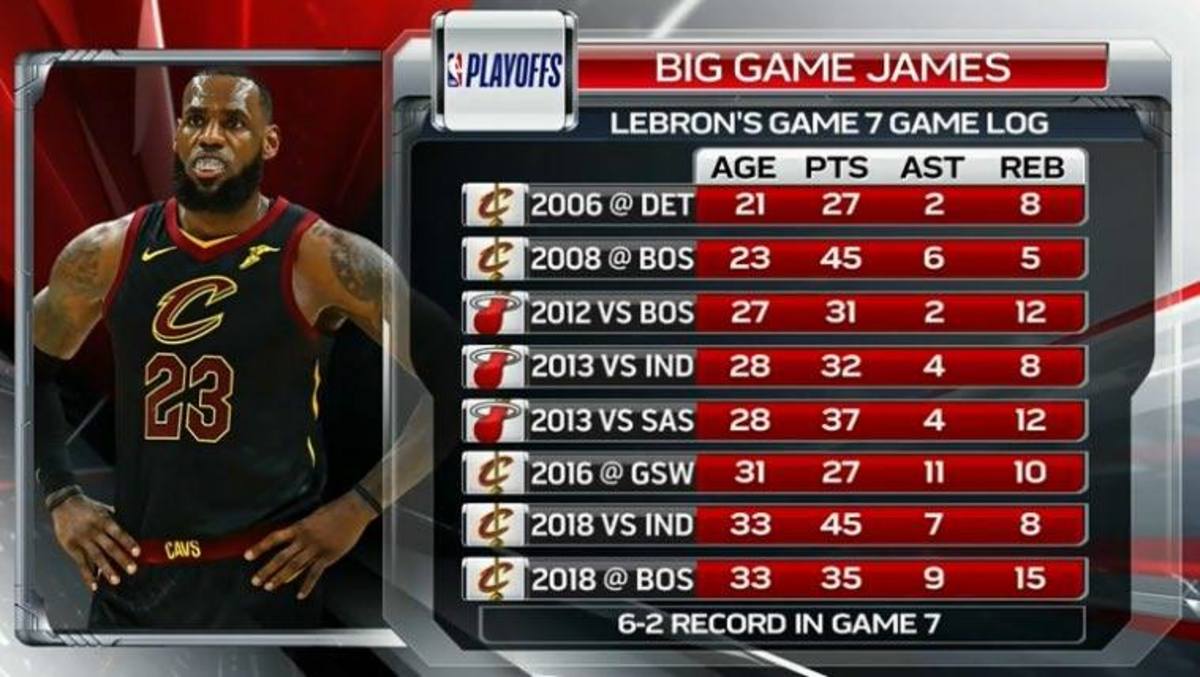 In the 2005-06 season, he was eliminated by the Detroit Pistons in the Eastern Semifinals. Two years later, he went against the Boston Celtics, the team that beat LeBron repeatedly during his days in Cleveland and made him look for a new team in the summer of 2010. Even though he lost those two matches, he managed to post 27 points and 8 rebounds against the Pistons and 45 points, 6 assists and 5 rebounds against the Celtics.
After that, things weren't the same for the King. He has won his last six Game 7s, always showing his talent and hunger when his team most needs him. The most famous cases happened in 2013 and 2016, where he made sure to lift his team and win the trophy.
In 2013, while he was with the Miami Heat he dropped 37 points on the San Antonio Spurs to go along with 12 rebounds and 4 assists. Three years later, he went off on the Golden State Warriors, scoring 27 points, 11 assists, and 10 rebounds the night the Cleveland Cavaliers won their first-ever NBA championship.
Bron has demonstrated he's not afraid of anything, and every time he's had the go and define a series in a seventh game, he has lived up to the expectations. The last time that happened was in 2018 when a young Celtics team was trying to make it to the Finals before James and his Cavs told otherwise.
He'd rather advance through rounds without major problems, but LeBron is ready to lead his Lakers in a Game 7, either this season or the next one. It's still unclear if the league will restart the season at some point this year due to the coronavirus crisis. Whatever the case is, Bron would be ready to take his team to the promised land.