At the end of July, 22 NBA teams will tentatively descend on Orlando to finish what has been a historically unprecedented season. But things will look more different than ever.
For starters, in the League's 74-year history, there has never been a mid-season shut down and restart. In many ways, this unexpected situation has presented terribly unique challenges; but in others, it has allowed for previously unthinkable avenues of growth and adaptation.
There's a lot to learn in this moment, and what better time than right now–amid social revolts and sports-world upheavals–to implement changes by suggesting imaginative alternatives to what we have forever accepted as "normal" in our society?
That's where artists like Conrad Burry come in. The graphic designer with a passion for basketball is proposing a socially-justice themed concept package, which he has titled, "Together for Change," in which NBA teams would adopt a redesigned jersey variation of their franchise's uniforms–but with civically-oriented messaging as the focal point.
In what has now gone viral, Burry has encouraged the NBA to leverage their popularity and platform to promote these messages of solidarity, equality, tolerance, and justice–in light of the Black Lives Matter movement that is responding to the brutal killings of citizens like George Floyd, Breonna Taylor, and so many others.
To sum up my Together For Change jersey concept series, here's a graphic of all 22 jerseys. Thanks again for stopping by to take a look, and please continue to have discussions and take actions to affect change.

ps: i MIGHT do the "left out" 8 teams eventually, so keep 👀 out pic.twitter.com/Cm5eANhcR0

— Conrad Burry 🔴🐐🎨 (@conradburry) June 26, 2020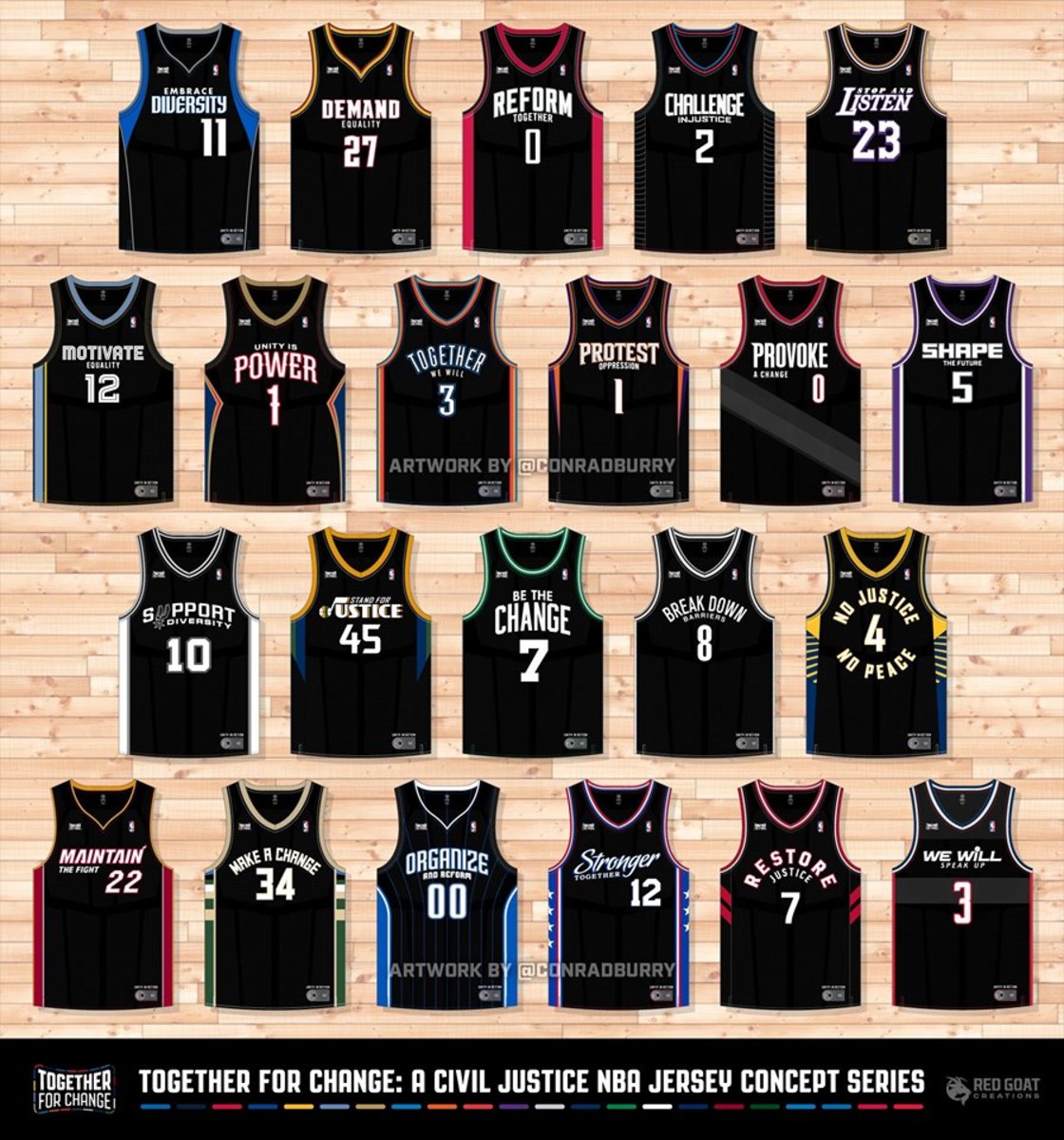 In a public statement, Burry explains 'Together for Change' is a comment on every person in the world striving together to enact action that will help to eradicate injustice. It also has a secondary meaning of the 22 NBA teams being quarantined 'together' in Disneyworld for the remainder of the current regular and postseasons."
If nothing else, propositions like this encourage us as sports consumers to re-envision professional athletics as not only a bubble (in this case, a literal bubble) of socially-distanced distraction, but as a center for positive messaging and social awareness–especially in times of violent division and tumultuous unrest.
The designs are cleverly tailored for each specific team, using the first-letter of each jersey to rename and rebrand the competitors for the rest of this season.
The Portland kits suddenly become PROVOKE a Change. Denver's threads declare DEMAND Equality. The Raptors keep their red and black roots but now ask to RESTORE Justice. And teams like the Spurs use wordplays like SUPPORT Diversity, with the famous spur-shaped U included.
The clever remixing of sounds and letters–usually alliterative, a technique often used by poets and politicians to emphasize their message–are not random, but rather are selectively inspired from each team's current uniform to match the sound and brand of each franchise.
At the moment, only current playoff teams have been designed–in addition to a themed court for the NBA's use, if they decided to adopt the concept.
The intent of Burry's project is to implement the change for this season only–as a response to the momentum of social justice occurring in solidarity with Black Lives Matter, and to commemorate the historic act of teams playing "together" in the same facilities due to COVID. Once a champion is crowned, the teams would revert back to their usual franchise logos for the next regular season–when players would ideally return to play in their respective cities.
The idea has been gaining much deserved attention, and even picked up enough traction to catch the eyes of the Boston Celtics, whose organization Tweeted the designer's post in support of the Celtics' Be the CHANGE uniform:
BE THE CHANGE ☘️✊🏾 https://t.co/5TyIu98Efo pic.twitter.com/zHMKxvNrT1

— Boston Celtics (@celtics) June 18, 2020
Burry didn't forget the 8 teams left out of competition for the NBA resumption. He also posted concept jersey for the 'delete eight' and they look just as amazing as the others.
So as to not leave out the "delete eight" from being able to help make a difference, here are designs for the remaining 8 teams not in the Orlando bubble. Maybe they could wear (and sell to donate profits) them in televised Summer League-style scrimmages? https://t.co/zkOpXXUxhU pic.twitter.com/OFSUAfd8gx

— Conrad Burry 🔴🐐🎨 (@conradburry) June 29, 2020
What do you think? How does your team's threads look? Do you support this change to bring more social awareness into basketball?