Kawhi Leonard's departure from the Toronto Raptors was something expectable for some people, but it was still hard to assimilate for the team's fans. Leonard landed in Toronto, took that team to the Finals and won it in front of the all-powerful Golden State Warriors.
Yes, the Warriors didn't count with several key players during the series, but they won and nothing can change that.
In the end, Kawhi left the Raptors, even when he said he seriously considered staying, and returned home with the Los Angeles Clippers, trying to replicate the success he had in Toronto with the Clips. When we first heard about it, we were shocked, and so were Raptors fans. One even dealt with Kawhi's departure as it was a breakup, confusing one girl and creating one of the greatest exchanges in NBA Twitter of all time.
"Imagine if he stayed," @jodyjods wrote.

One girl, @phxnlith, replied, 'imagine if he left me alone from the jump'.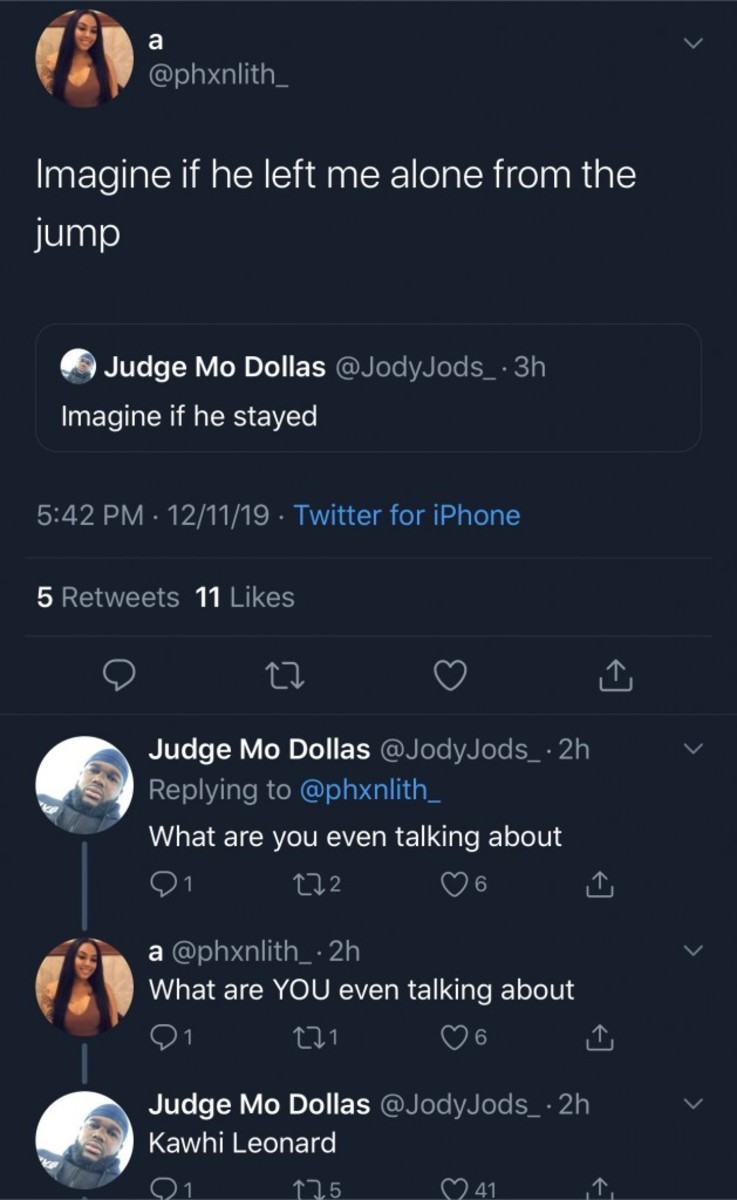 Of course, this created a lot of confusion and Jody asked the girl what was she talking about, the girl asked the same question and that's when the diehard Raptors fan revealed he was mourning Kawhi's departure from the Canadian franchise.
This will always be one of the funniest exchanges on this app. 💀 pic.twitter.com/kPpCE1jgvY

— Hoop Central (@TheHoopCentral) August 2, 2020
That is definitely something to remember and one of the greatest conversations in NBA Twitter ever.
If you ask Jody now, he'd probably tell you he's good with how things happen since the Raptors are still a competitive team, ranking second in the East, trying to defend that title in the Orlando bubble. Perhaps he's over this whole Kawhi thing and is happy with his team. It remains unclear if the girl finally got over her breakup.