The Hawks have drafted an MVP level point guard in Trae Young. Combining natural playmaking ability and range from the logo, the small point guard has become one of the best players in the league.
However, he is stuck on a team that is currently in rebuild mode. Trae Young should be playing underneath the bright lights of the playoffs, and show off his offensive skills. Here are 5 players that could optimize Trae Young and vault the Hawks into playoff contention.
5. Lauri Markkanen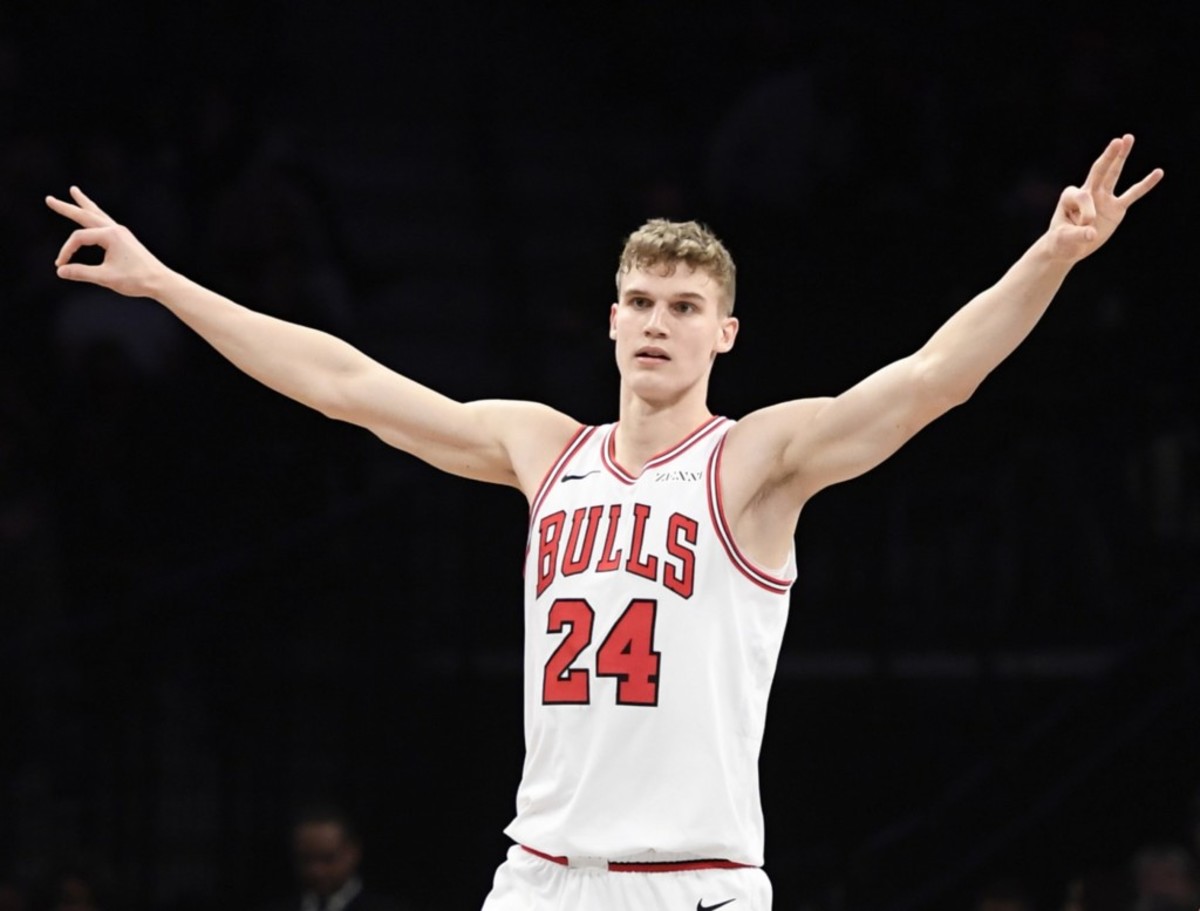 Lauri Markkanen is the only big man on this list. The Hawks lack elite wing creation, hence a lot of the holes on the roster are at the 2 and the 3. When looking at the Luka Doncic and Kristaps Porzingis duo, you start to wonder what Trae Young could do with an elite stretch 4 (36.1% on 6.4 attempts in 2018-2019). While Markkanen has regressed from last year, this is the precise reason that the Hawks could land him.
During his second year, the Finnish big man has shown traces of a Porzingis like game, being able to stretch the floor at a high level, and showing traces of a strong athletic presence. Markkanen has played worse this year than the last, but still remains a prospect with tantalizing upside, as a true stretch big with the ability to get hot from three.
Some of Markkanen's struggles could be based in coaching, as Jim Boylen is not a good coach (famously refused to call a time out for an injured player). A change of scenery could be for the best, and the Bulls could definitely extract some value for the European big man. His fit in the frontcourt rotation between Capela and Collins is questionable, but the franchise could definitely make it work. At some point, you draft for the promise of what could be, instead of being stuck in mediocrity. Playing alongside a top-level playmaker could unlock Markkanen's offensive game and provide Trae Young with a big man that can shoot the ball as well as play inside at a good level. If the Hawks trade for Markkanen one of Capela or Collins is gone.
4. Caris LeVert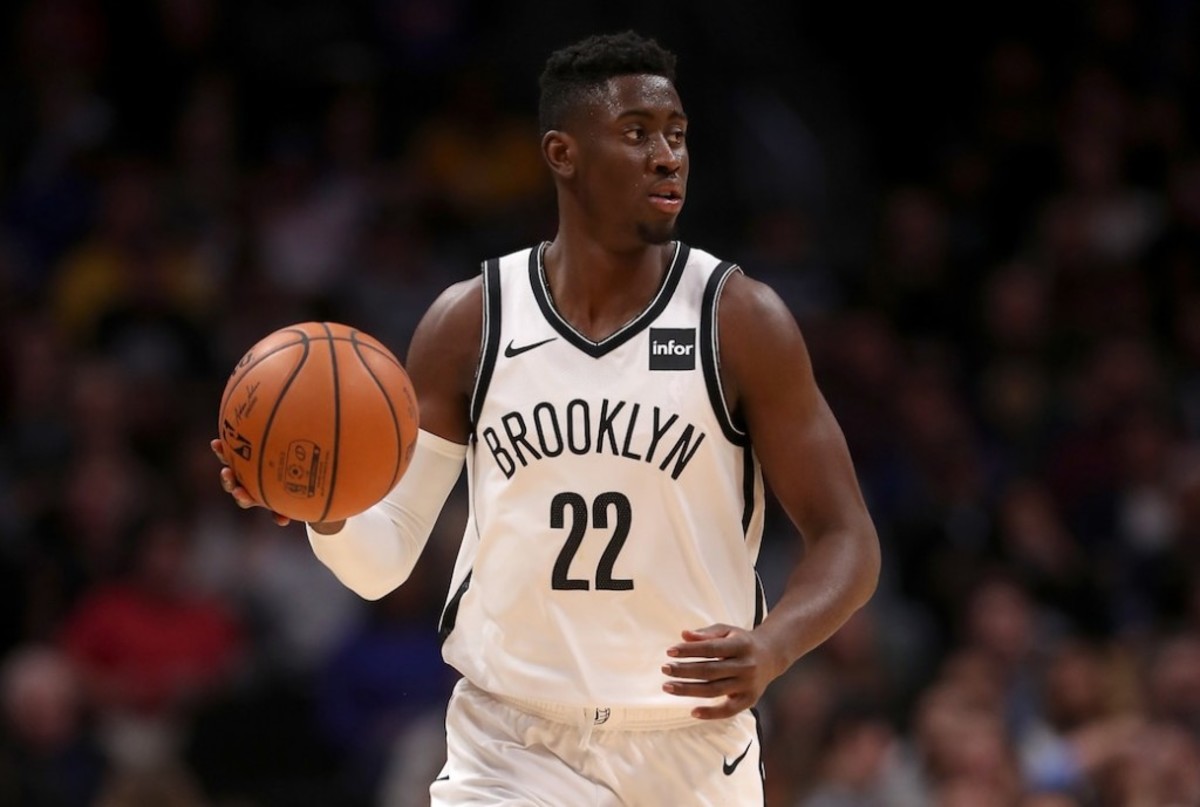 Caris LeVert is yet another wing player that can create at a high level for himself. During the bubble LeVert was the main offensive option on the Nets, with teammates Spencer Dinwiddie, Kevin Durant, and Kyrie Irving sidelined during the bubble. LeVert led Nets went 5-3 in the bubble while becoming the one-man LeVert show. He has elite creation in the midrange, a solid 3 pointer off the catch, and is essentially another all-purpose wing that can do a little bit of everything on the offensive end.
The biggest reason for him being traded is simple: the Nets have too many mouths to feed. Spencer Dinwiddie, Kevin Durant, and Kyrie Irving are all coming back next season, which will lead to a crowded backcourt rotation. Add in Joe Harris and it is hard to see if there is space for LeVert.
LeVert is too talented to just be a bench player. He will most likely ask for a trade if he gets less playing time, and his extension makes him an affordable prospect who would break out in the right kind of environment. LeVert has all the makings of a star and his shot creation ability was highlighted within the bubble. If the Hawks were to get LeVert, it would have to be through a trade with a lot of picks, and someone who can play with Durant and Kyrie. Essentially they would have to send out a guy who can play defense and has some upside, and Cam Reddish could fit the bill. While he hasn't been spectacular in the NBA, the promise is there, and if the Hawks add in a couple of picks, I don't see why the Nets won't accept a solid deal headlined with a prospect full of potential.
3. DeMar DeRozan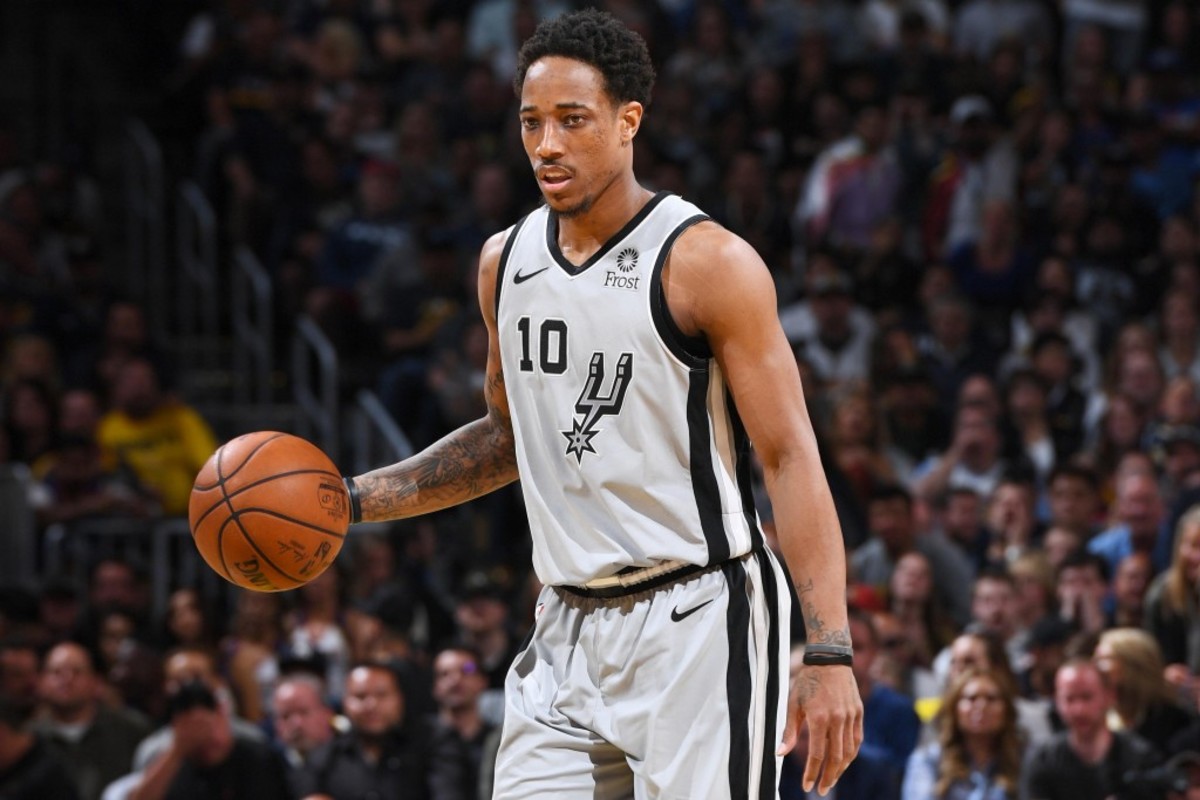 DeMar DeRozan is a bonafide scorer stuck on a rebuilding team. The Spurs ended their playoff streak of 22 years in a row in 2020, and clearly the talent on the team isn't enough to carry them beyond a bottom seed in the West. If DeMar DeRozan gets traded to the Hawks, then he can go back to competing in the playoffs in the Eastern Conference.
DeMar DeRozan is a good creator inside the arc. His midrange game and footwork are reminiscent of a different basketball era, and he is quite shifty around the rim. If DeMar DeRozan is your best player, then your franchise has a certain ceiling, as evidenced during his time on the Toronto Raptors. Pairing him with Trae Young would be good for his game, as he could focus on cutting to the rim and improving his off ball game. He would be called on to create when necessary but would leave Trae Young with most of the burden on the offensive end.
This trade is something that could actually happen due to the Spurs being likely to start rebuilding. That means their veterans are on the trading block. DeRozan has been touted as likely to pick up his 27.7 million dollar player option. If he does so, it could be in the best interests of both parties to trade him. If he picks up his option and gets traded, DeRozan will still have a max level salary for a year, while getting put into a situation with less pressure to win.
His experience would be invaluable for the young Hawks, who are clearly one of the best young cores in the NBA. The Spurs benefit from trading a dude on an expiring contract and getting some value. As he is an expiring contract, he would be easier to get than most of the guys who have long term contracts. A trade for DeRozan would most likely consist of Kevin Huerter, some picks plus salary filler: Huerter's game is suited for the modern NBA with his shooting ability, and Popovich is known to develop international prospects into great players.
2. Devin Booker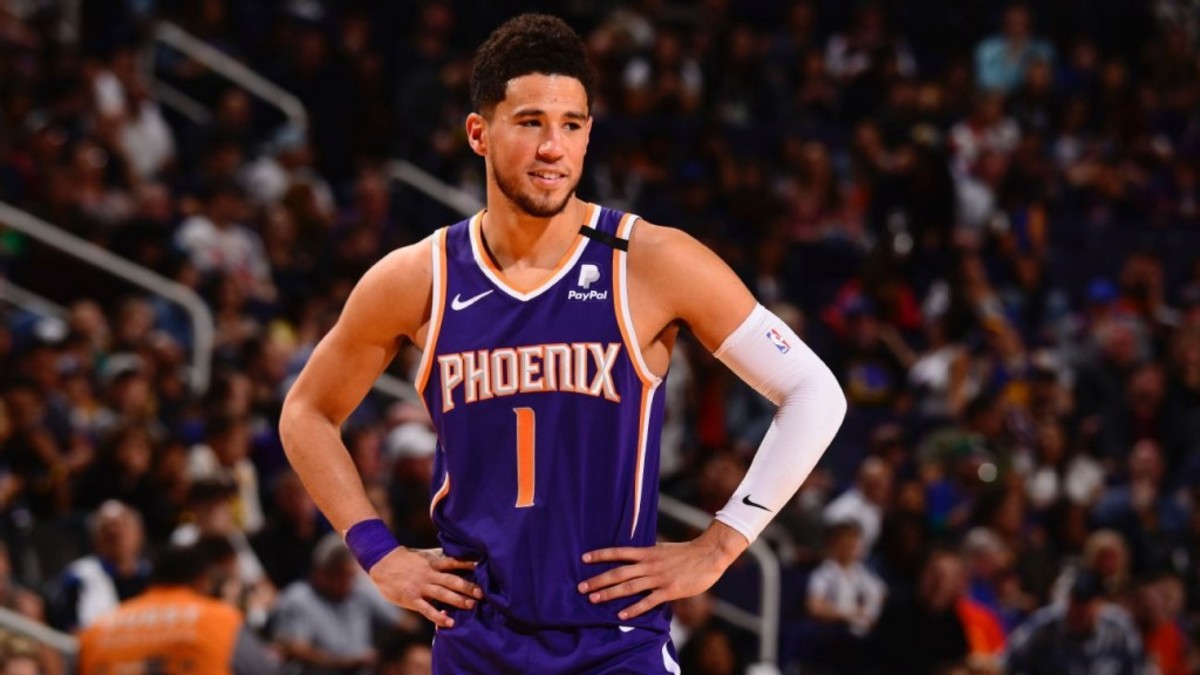 I am going to preface this section by saying that it is unlikely that the Hawks will get Devin Booker. Booker just signed a max level rookie extension and the combination of him and Ayton look like an up and coming emerging duo after going 8-0 in the bubble this year.
But at the end of the day, if the Hawks added Devin Booker, they would have one of the best backcourts in the league. Two up and coming offensive powerhouses. They can both score in any area on the court. They would be a top tier team offensively while being a turnstile on defense. Regardless, for the type of run and gun game that Trae Young has, Devin Booker would be a perfect match.
To get Booker, Atlanta would have to give up a lot. Dewayne Dedmon would be a starter to match salary. Hunter, Huerter and Collins would have to round out the rest of the trade, along perhaps with a pick. It might seem like an overpay for Booker, but I assure you, Phoenix would not give him up easily. Obviously there is the matter of him just signing his extension and Phoenix seeing him as a centerpiece for the future. While Booker could be happy in Phoenix right now, Atlanta should be one of the first teams calling the front office when he is not. At the end of the day, you don't give up the opportunity to pair two talented scorers together, even with their defensive deficiencies.
1. Brandon Ingram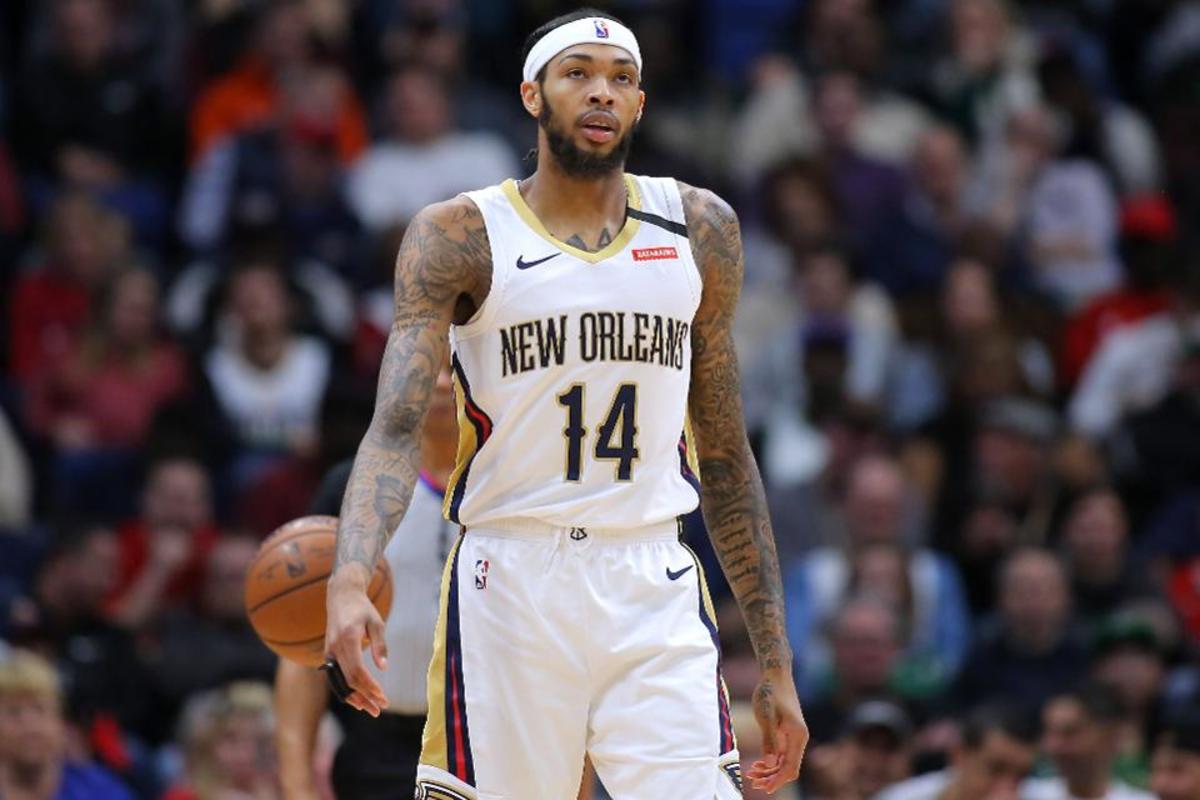 Yes, Brandon Ingram is an ideal target. In fact, he is most likely to have a lot of suitors during this upcoming free agency. The only problem that is standing between the Hawks, and throwing their hat in the ring for his services. The New Orleans Pelicans hold his restricted free agent rights, and will most likely match any reasonable offer. Essentially, Brandon Ingram does whatever he wants to on offense. He plays like a budget Durant.
Obviously not quite the caliber of Durant, he is still a scorer on all three levels on offense. Ingram has a similar body build, and his offensive ability speaks for itself. The long wingspan and the ability to move give Ingram all the tools to improve his defense on top of that.
If Ingram goes to the Hawks, his fit as a creator next to Trae Young would be absolutely natural. Ingram can shoot off the catch and handle the ball. He cuts off the ball well. Essentially, a scorer that can do a little bit of everything is what Trae Young needs. Trae Young can score off a high clip but just needs somebody to relieve some of the offensive pressure. One of the scenarios where Ingram goes to the Hawks is one where they try to sign him and New Orleans is unwilling to match. The other one happens if they send a package of picks and some young players in order to do a sign and trade, and Ingram decides he wants to leave. Either of those would work for Atlanta, who could send DeAndre Hunter and/or Cam Reddish to New Orleans in exchange, along with a war chest of picks.
What the Hawks need to make them a threat for the playoffs is another multi-level scorer who can carry some of the offensive load for Trae Young. They already have a solid young core with Capela, Young and Collins, and just need that extra step to vault them into playoff contention. All of these options could benefit the roster: it just depends on whether the Hawks management can pull them off and make a roster that is a long term fit around Trae Young.
Next
Top 10 Greatest 1-On-1 Players In NBA History
NBA Rumors: Bucks Could Land Chris Paul For Eric Bledsoe, Brook Lopez And Ersan Ilyasova
NBA Rumors: The Only Way The Los Angeles Clippers Can Land Giannis Antetokounmpo This Offseason
The Blockbuster Trade Idea: Portland Trail Blazers Can Land Kevin Love, LaMarcus Aldridge And Derrick White This Offseason
NBA Rumors: Oklahoma City Thunder Could Trade Chris Paul, Steven Adams And Dennis Schroder