Russell Westbrook hasn't had the best start with the Washington Wizards this season. After spending one single season with the Houston Rockets, where he didn't click with James Harden, Brodie asked for a trade and the Wizards pulled the trigger, sending John Wall to H-Town.
Westbrook is having a rocky start as the Wizards have only won 3 games in 13 matches this campaign. When Brodie plays, they are 1-8 and 2-2 when he doesn't take the court with his teammates. The 2017 NBA MVP wants to make him and his team better but the Wizards can't win this season.
After Tuesday's match, where Westbrook starred in a heated moment with John Wall, he received a lot of criticism, and Brodie was well aware of that. He was spotted liking a post of ESPN detailing how many points he's scored this season, 163, which is exactly the same number of shots he's attempted with the Wizards.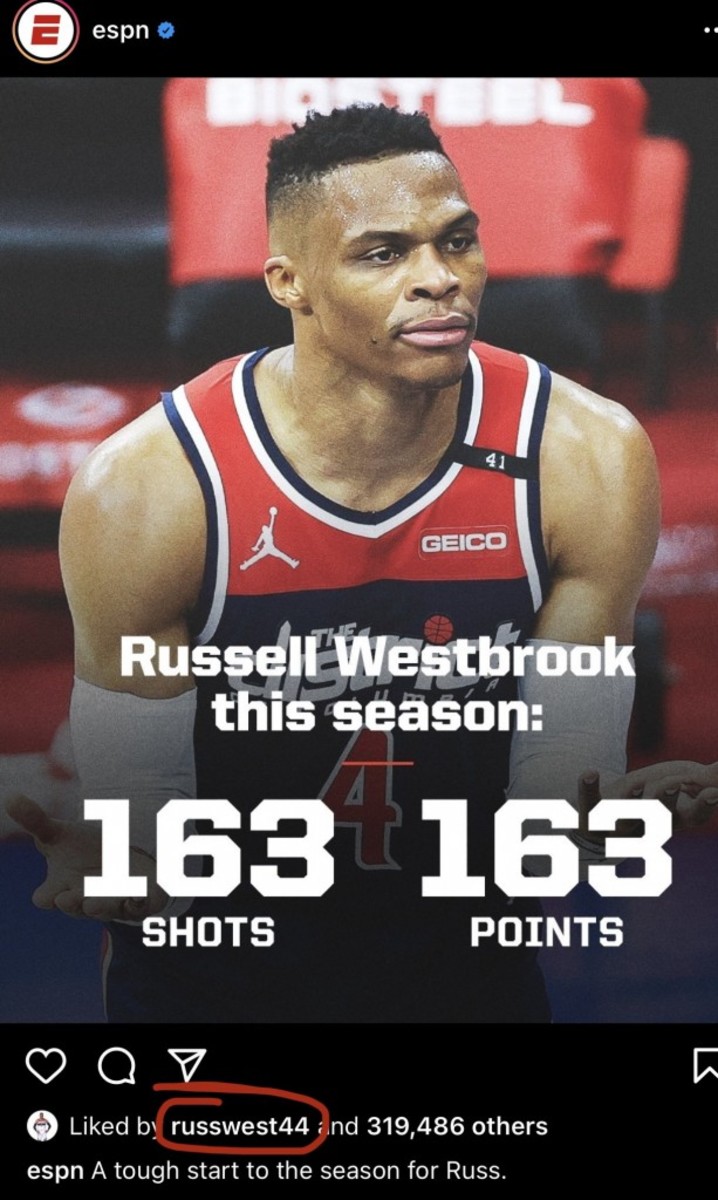 Fans reacted to it and while some defended Westbrook, others claimed he was done and he can't get any better at this point in his career.
he's still gonna suck

— Kobes Burner (@KobeSexuaI) January 27, 2021
He's been MVP in this league, he will figure it out

— (@OrlandoNuggs) January 27, 2021
Ok just shocked that over time he hasn't gotten better about limiting turnovers or becoming a more consistent/better shooter. Even FT % has gone from mid 80s to 65-70. It's awful.

— Jacob Lerum (@JdLerum) January 27, 2021
Yo wtf how is that motivation they making fun of em

— Pj and 8,678 others (@pramraaj) January 27, 2021
Haters in the replies pic.twitter.com/mUP5pxNlhn

— Will (@WindyCity_Will) January 27, 2021
Just look likes he liked a post to me

— Dee (@SixersDee) January 27, 2021
Hes about to go crazy ngl

— SAD BRODIE FAN ⚡ (@QB1Lamar) January 27, 2021
I'm sorry, but Scotty Brooks gotta go. Same with Stotts I'm Portland. The guys need a new voice. They strategies aint working. That or guys just won't buy in. I wanted to see Brodie and Beal go off too.

— Jeremy Lopez (@jay_thegirldad) January 27, 2021
— Bobby Bxtch (@chederB0B) January 27, 2021
Russ is done lol he plays the game for himself can't improve his team or mates his a box office player but unfortunately teams with chip ambitions can't go for him

— #MwanaMooze (@mwanamooze) January 27, 2021
motivation for what? He's not on a shooting slump. He's obviously injured, scott brooks should see this so he will be motivated to rest russ.

— depressedwestbrookfan (@BR0DIEEEEEEE) January 27, 2021
Motivation to get better stats? He's been doing that forever!!! It's time to win.

— Zench Genes (@anaashilitra) January 27, 2021
Westbrook is one of the most athletic players the NBA has seen but after he left the Oklahoma City Thunder, he's struggled to find his touch. This year he was expected to be better with the Wizards but none of that has happened so far. He's still having great nights individually speaking but his team is the worst-ranked in the East and that doesn't seem to be changing anytime soon.
Perhaps this will serve as motivation for Russ but it remains to be seen how much he can change for his team in the next couple of games.