Regardless of what everybody said about Kevin Durant's departure from the Golden State Warriors, the player has maintained a very good relationship with his former teammates and the prime sample of that was his hug with Stephen Curry when they first clashed this season and also the fact that he's helping Klay Thompson with his ACL rehab.
They lived a lot of good things together and nothing can change that. Durant has been very active on social media after he picked up an injury and recently praised Thompson for his shooting ability. When Klay uploaded a video of himself shooting the ball from the corner, helped by Zaza Pachulia, every Warriors fan went crazy but they weren't the only. KD also commented on the post with 3-word praise for his former teammate.
View this post on Instagram
"Ain't sh*t changed," the 2x NBA champion wrote.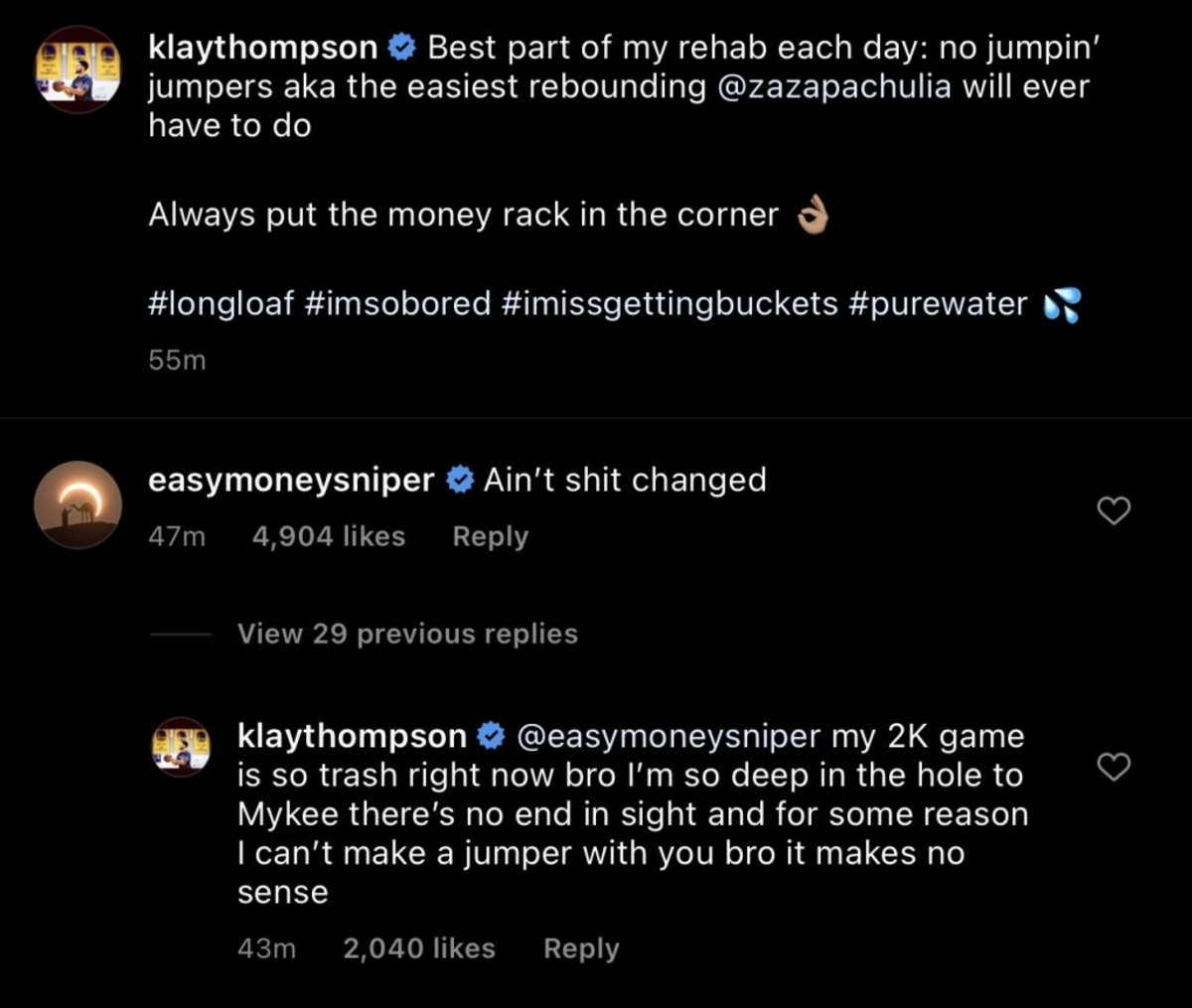 Just when one believed Klay was going to send a thank you, he just took a different route and let KD know that is incredibly hard to make jumpers with him on NBA 2K21. Things turned very wrong very quickly and fans didn't expect that.
"My 2k game is so trash right now bro I'm so deep in the hole to Mykee there's no end in sight and for some reason I can't make a jumper with you bro it makes no sense," Thompson replied.
Of course, fans reacted to those comments, actually agreeing with Klay and saying KD's jumper on 2K21 is just… Not good.
That man KD lowkey is weak as hell to use in 2k

— Dee 👶🏾 (@SixersDee) March 19, 2021
— Damian Bankss🐐. (@DamiannBankss) March 19, 2021
KD on Klay Thompson… pic.twitter.com/SL0hAzfxp8

— Alan Silva (@JudoAlan) March 19, 2021
I make more whites with russ than kd shits tragic

— Jim (@Jimb00246) March 19, 2021
KD should've just stayed with us.💯#DubNation pic.twitter.com/A9SBamKLqH

— Deaareon Morris (@deaareon544) March 19, 2021
KD and Lebron is so ass on 2K bruh deadass , Giannis and PG/Kawhi the best players to play with on 2K especially Giannis

— Jay (28-13) (@JAYROCK136) March 19, 2021
the thing is they arent wrong

— oo (@coIlinsexton) March 19, 2021
Gotta be quick on that kd release

— Franz Grüber (@franz_gruber49) March 19, 2021
😂🤣

— SactownPete (@PMasih007) March 19, 2021
Pain

— Bob McMillan (@BobMcMillan8) March 19, 2021
KDs jumper is ass makes sense

— adrian ‼️ (@BichetteBombs) March 19, 2021
2k is too realistic. They need to go back to 2k18

— Jordan (@J_Pab24) March 20, 2021
I can't make any 2k jumpers with Durant either damn

— stephen curry 😈 (@GB_______GB_) March 19, 2021
He's right, 2k is ass. Zaza is ass too

— KZumiraè (@HeatRaySumirae) March 19, 2021
It's good to know that two players that lived so many great moments together are still in contact and ready to praise each other whenever they can. However, this time Klay roasted Durant's jumper in the video game, but the spirit is there.
As stated before, KD has helped the shooting guard recover from his injury, and seeing how well he played before picking another one this season, the Slim Reaper is an authorized voice to help Thompson return to his best level next season.