With Tony Parker officially retiring at the end of last season, that officially signals the end of the Spurs Dynasty. Tony Parker, Tim Duncan, and Manu Ginobili all will, without a doubt, make the Hall of Fame as they all had a key part in the Spurs winning 5 championships in the last 20 years.
Last year was a different season for the Spurs as they struggled early but picked it up mid-way through last season and made the playoffs as the 7th seed. They put up a fight against the Denver Nuggets but ultimately lost to them in 7 games.
This upcoming season is the first time in a long time that many people are questioning whether or not the Spurs will make the playoffs. As their roster is currently constructed, they have plenty of assets to go out there and add valuable players to ensure that they make the playoffs.
Here are 5 players that the San Antonio Spurs should target.
Steven Adams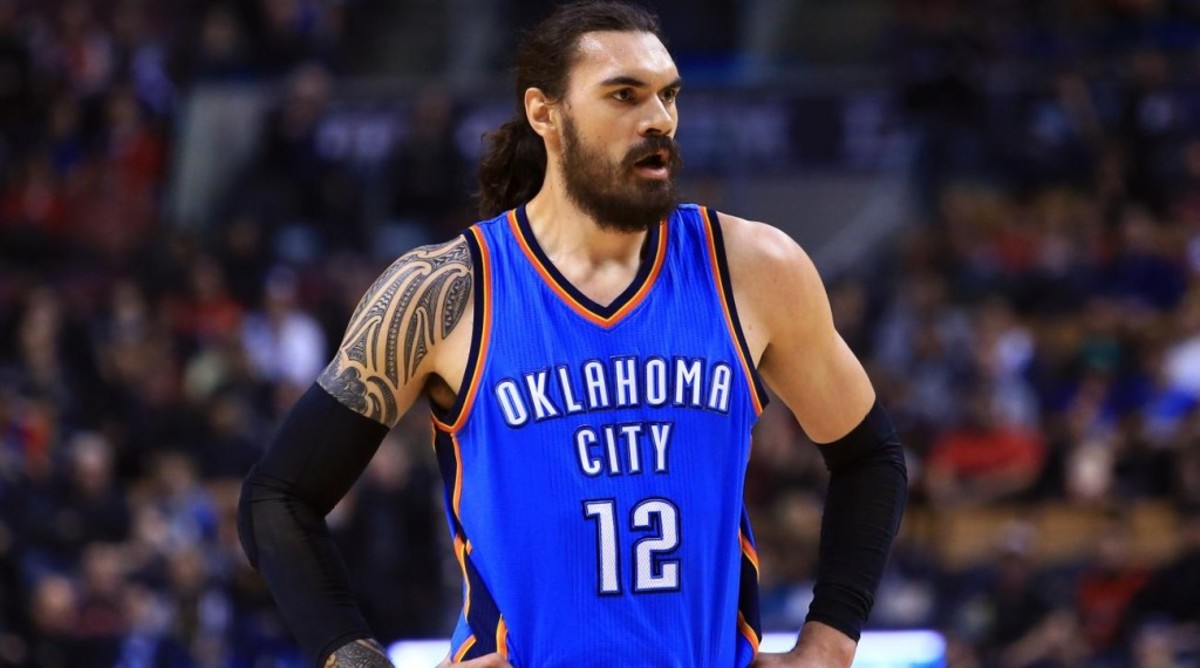 The Thunder have already stated that Adams is available, and he is a player that the Spurs should target. Adams looks to be the perfect player for San Antonio Spurs as he is someone who plays hard and would provide a lot of that team. Steven would make an immediate impact in the rebounding category for the Spurs and bolster an area that they struggled in last year as they were 21st in rebounds per game with 44.7 and 27th in offensive rebounds per game with 9.2.
Steven Adams is one of the best players in the league when it comes to offensive rebounds and those extra possessions for the Spurs would be big and could have a big impact on playoff seedings.
A potential trade would be Rudy Gay, Marco Belinelli, Jakob Poeltl, and Lonnie Walker in exchange for Steven Adams. For the Oklahoma City Thunder, you would be receiving two young players in Lonnie Walker and Jakob Poeltl to add to your already established young core and would be getting off of Steven Adam's gigantic contract.
For the Spurs, you would be getting a bruising/hard-working center in his prime to pair alongside LaMarcus Aldridge to form a nice frontcourt. Adams would help improve this team on offense and defense and that frontcourt pairing alongside Dejounte Murray, Derrick White, and DeMar DeRozan should create a team that can make some noise in the West.
Marc Gasol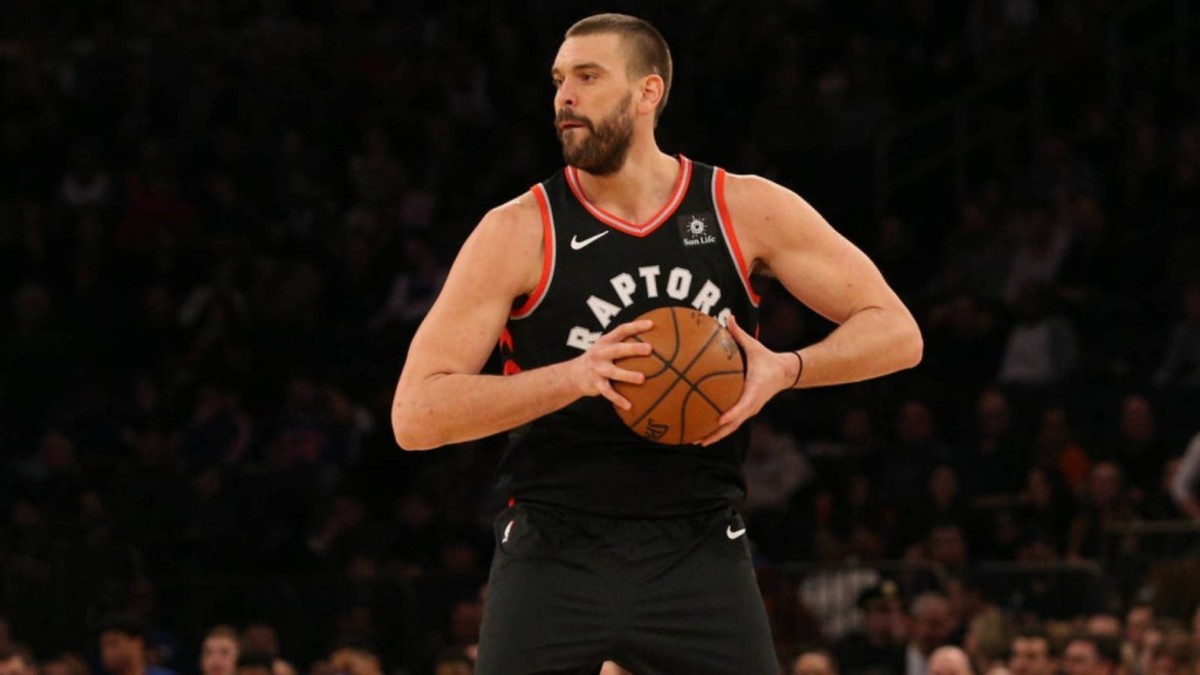 Marc Gasol is having the greatest year of his basketball career. Winning an NBA championship with the Toronto Raptors and helping Spain win the gold medal in the 2019 FIBA World Cup, Gasol looks poised to continue on this success this upcoming season. But the question still remains whether or not he will be playing for the Raptors at the end of the season. Though the Toronto Raptors did win their first championship in franchise history this past season, the celebration quickly came to an end as Kawhi Leonard, the Finals MVP, had decided to leave the Raptors for the Los Angeles Clippers. Slated to become a free agent, the Raptors may look to move him and get something in return if the season is not going as expected and if they do, the Spurs should try to acquire him.
A potential trade would be Lonnie Walker and Rudy Gay in exchange for Marc Gasol. Lonnie Walker spent most of last season in the G-League and with Derrick White and the Spurs drafting Keldon Johnson, Walker looks to be expendable.
For the Raptors, you would be receiving a young player in Lonnie Walker to pair alongside Pascal Siakam and a player that you hope can become a valuable piece for you.
For the Spurs, you would be getting a do-it-all type of player in Marc Gasol. Gasol is a great defender, can hit the three-point shot and is underrated as a passer. Gasol is also a veteran so it wouldn't take long for him to learn the system and a player who knows what it takes to go deep into the playoffs.
Chris Paul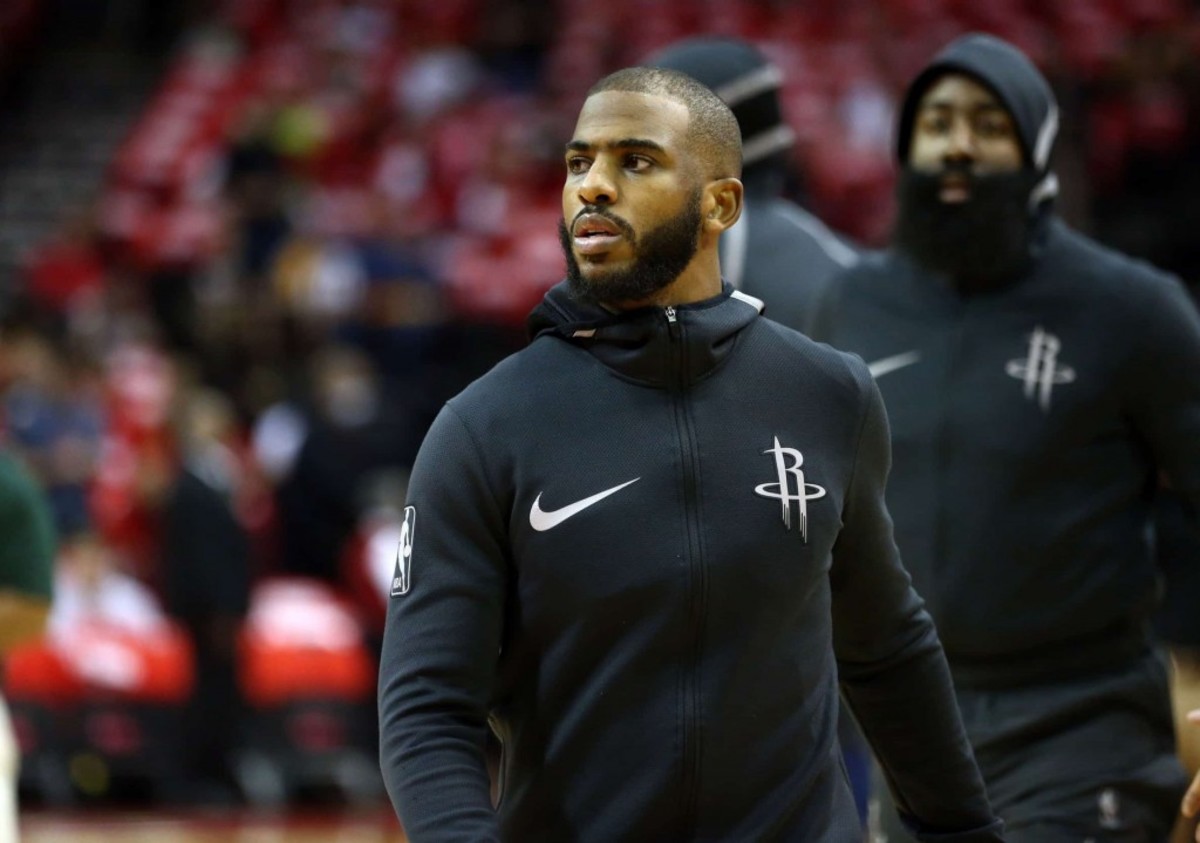 It is no secret that Chris Paul is available, and the Oklahoma City Thunder are actively looking for a trade partner. A potential trade for CP3 may seem idiotic for the Spurs but let me explain. Even at his old age, Chris Paul still has a lot left to provide.
Chris Paul can be a mentor to Dejounte Murray is still a player who can give you 15-17 points and 7-9 assists a night. Injuries shouldn't be a cause for concern with the Spurs as they have a ton of depth so they should be able to rest Paul a lot. A backcourt of CP3 and Murray should also be a scary one as both players are great defenders, exceptional playmakers and have great scoring abilities.
A potential trade would be Bryn Forbes, Rudy Gay, Marco Belinelli, Patty Mills and future draft picks in exchange for Chris Paul.
For the Thunder, the main goal in trading Chris Paul is getting out of his enormous contract and with this trade, that goal will have been accomplished.
For the Spurs, Chris Paul adds another playmaker on the roster and improves an area that they were lacking in as last year, they were 16th in the NBA in assists per game with 24.5. Chris Paul also adds a veteran presence and in Popovich's system, we could see Chris Paul have a ton of success.
Kevin Love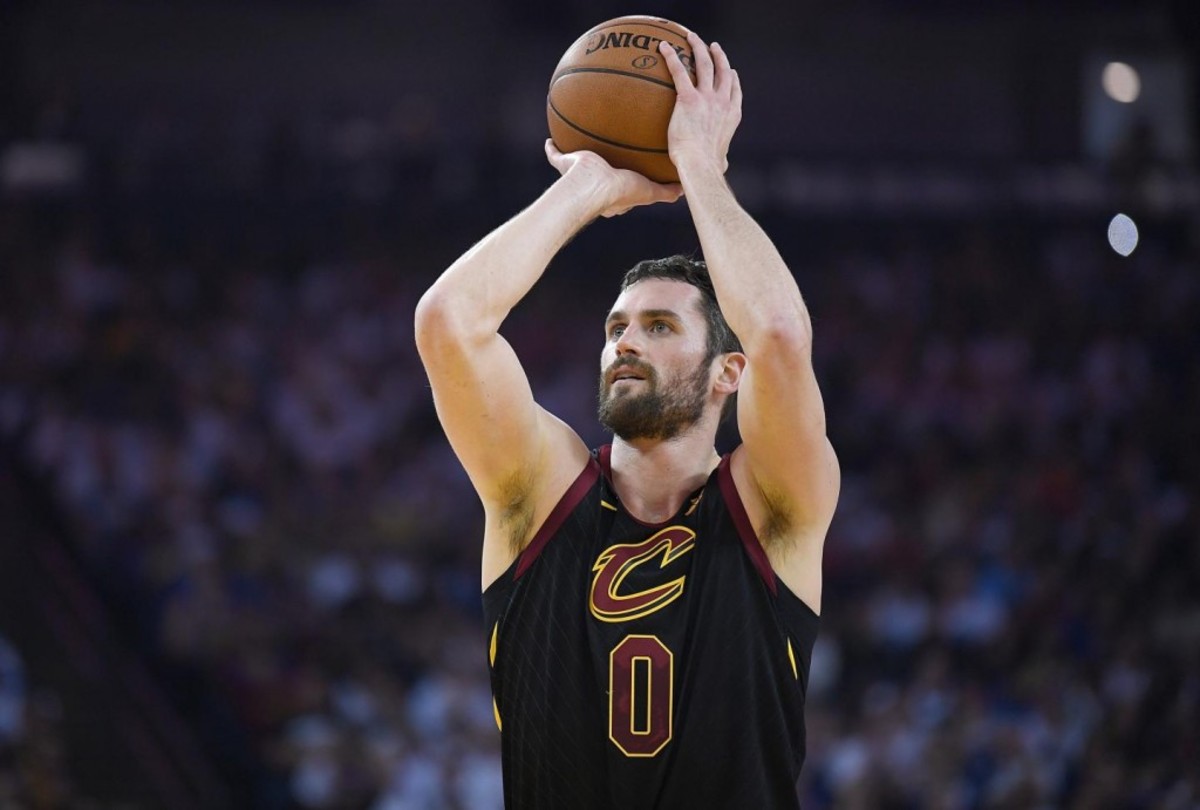 The LeBron James Era is over in Cleveland and the Cleveland Cavaliers are once again in the rebuilding process. After LeBron James bolted to the Los Angeles Lakers, it was pretty obvious that the Cavs were going to be bad once again but knowing this, Kevin Love had decided to sign a 5-year extension with the team. This extension shows that Kevin wants to be on the Cavaliers, and he helps the Cavs more than he hurts. Looking at Kevin Love's age and the direction that the Cavaliers are going in, it would make sense to trade Kevin Love.
A potential trade would be Kevin Love in exchange for Luka Samanic, Rudy Gay, and Marco Belinelli.
For the Cavaliers, Luka would be the Power Forward of the future for them and is an excellent stretch-four and would be another young player to add to their core. Rudy and Marco could add a veteran presence and you would be getting off of Kevin Love's huge contract and would create an enormous amount of cap space for the team to go and sign top-tier free agents.
For the Spurs, a frontcourt of LaMarcus Aldridge and Kevin Love could be disastrous defensively but if there was a coach who could make it work, it would be Gregg Popovich. Offensively, Kevin would provide a ton for this team. Kevin Love is someone who can give you 17 points and 10 rebounds a night and is someone who is a great passer for his position. His shooting abilities would open up the offense and would provide another go-to player for the Spurs.
Myles Turner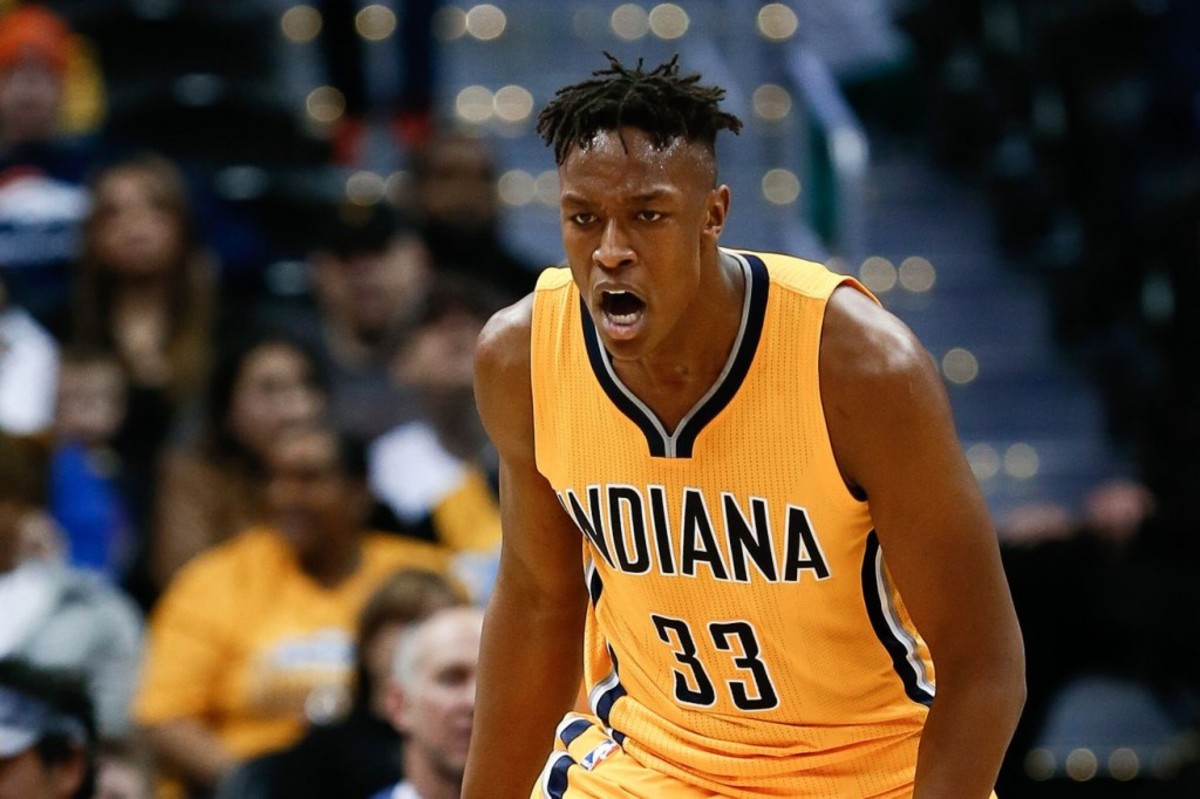 Last year, the Indiana Pacers created a predicament for themselves. The Pacers this season will look to choose between Myles Turner and Domantas Sabonis as the Center of the future for the team. It is obvious that Sabonis and Turner cannot play together and whichever Center they choose to keep, the other will more than likely be traded away. If the Pacers do end up choosing Sabonis, the Spurs should immediately call them and ask about a potential Myles Turner trade.
A potential trade would be Luka Samanic, Lonnie Walker, Rudy Gay in exchange for Myles Turner.
For the Spurs, Myles Turner is someone who many consider to be an elite defender and a young player who still has a lot to learn in the NBA. A frontcourt of Myles Turner and LaMarcus Aldridge would be a good one now and in the future and his defensive abilities would make an already great Spurs defense better.
For the Pacers, Luka Samanic and Lonnie Walker would provide the Pacers with depth and would be two players to add to their core of Victor Oladipo, Domantas Sabonis, and Malcolm Brogdon. Rudy Gay would provide a veteran presence, give the team much-needed depth at the Small Forward position, and provide a potential spark off of the bench.
Next
NBA Rumors: Thunder Will Reportedly Trade Chris Paul And Danilo Gallinari
Ranking The Best NBA Defenders By Tiers
Dallas Mavericks Should Risk It All And Create A Powerful Team This Season
3 Reasons Why Stephen Curry Will Win His 3rd MVP Award This Season