Jayson Tatum has been lighting up the court all season with the Boston Celtics but it looks like the young Small Forward is facing a bit of off-court drama revolving around his relationship.
Jayson Tatum has recently left his current girlfriend Samie Amos for Toriah Lachelle, a woman who he is having a child with.
​​Here's the screenshotted post: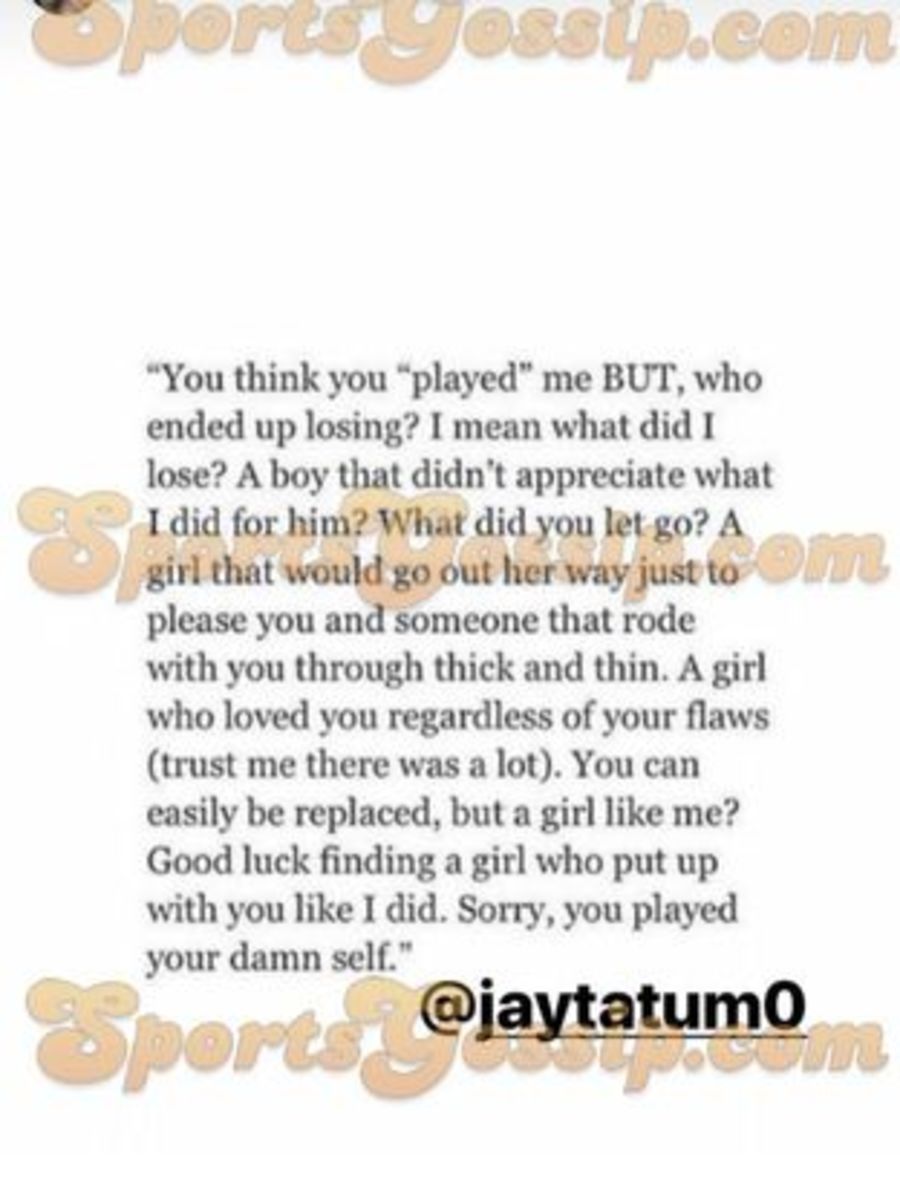 Nothing is certainly confirmed but rumors say that Tatum's relationship with both women overlapped which has left Amos anything but thrilled.
The now-former girlfriend of Jayson Tatum was understandably very upset with the way everything went down that she went to Instagram to vent her frustration of the Celtics star.
Celtics Jayson Tatum's Girlfriend Upset He Left Her to Be a Family Man With His Baby Mama; Leaves a Scorch the Earth IG Post Saying He'll Never Find a Woman Like Her Again & Tags Him at The End (IG Story-Pics-Vids) https://t.co/a8OOH8K6oL pic.twitter.com/F8kBVLlTz7

— Robert Littal (@BSO) December 21, 2018

Amos was blunt and honest when speaking about his betrayal, she described Tatum as someone with a lot of flaws who could easily be replaced. Soon after the post went viral, Amos deleted the picture.
Jayson Tatum's Got Two Girlfriends Like Lou Will, One Just Had His Baby, But Hang Out at Games (Photos) https://t.co/PIeQifWlUp pic.twitter.com/cvLFcbMWAN

— Robert Littal (@BSO) January 20, 2018
Jayson Tatum has been having an impressive season so far as he is averaging more points, assists, and rebounds than what he did last year when the Celtics reached the Eastern Conference Finals. It's a good sign that the Small Forward hasn't lost any form with all these off-court distractions going on since the Celtics are one of the many Eastern Conference teams in contention to make the Finals.
Tatum has held his own on the court even with Gordon Hayward returning to the team, he has even managed to steal some minutes off Hayward who hasn't been performing as well as he would have liked as he comes back from injury.