Without a doubt, the Bulls and the Jazz have had some of the NBA's greatest players. The all-time selections for both of these franchises are quite impressive, and have combined to make countless All-Star teams and captured multiple NBA titles.
But teams have had all-time great players, including the best player ever in Michael Jordan on one side and the second-leading scorer in NBA history in Karl Malone on the other. Both of these franchises pride themselves on defense, passion, and winning so this will be a game for the ages. On paper, this game could do either way since both teams have incredible defense and scoring ability in very balanced lineups. The Jazz has a certain style of play, while the Bulls have their own. Which one comes out on top?
This game will be a dog fight from the first whistle, as both teams will be scrappy and hungry to win this one. For defense lovers, this will be a fun game to watch. Here is how it plays out.
Point Guard: Derrick Rose vs. John Stockton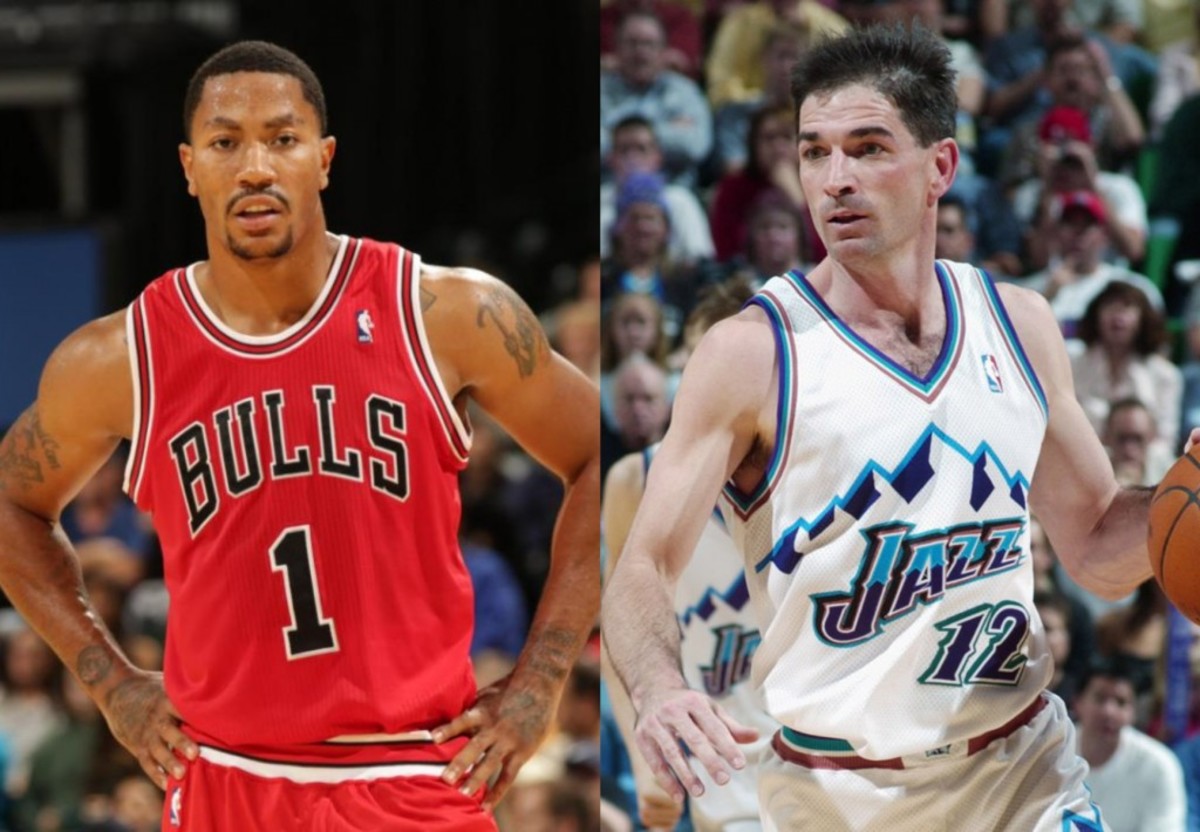 This will be a very intriguing matchup since both players are HOF caliber players who relied on very different styles of play to dominate the game. Rose was pure athleticism, speed, and explosiveness while Stockton used his all-time great basketball I.Q. to dictate the pace of play.
In a nutshell, both players will cancel each other's production. Rose will bring the flashy style of play, and many watching the game will think that Rose dominated the matchup until they look at the stat sheet. Stockton will get his usual 12 assists and will grab a few steals by playing the passing lane. Add in some long-range jumpers and Stockton will ultimately equal Roses production and plus-minus stat on the court. Still, Rose will drop 22 points and 6 assists during this game.
Shooting Guard: Michael Jordan vs. Pete Maravich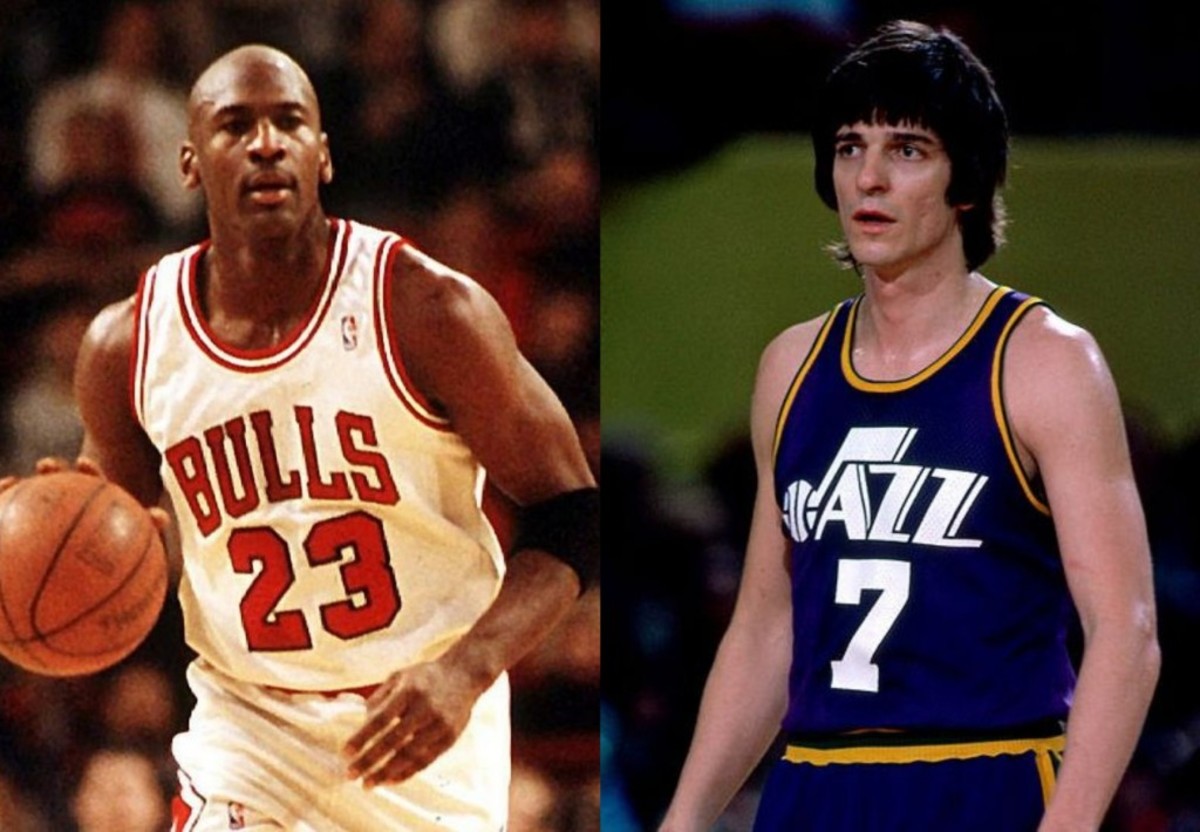 This will be another very intriguing matchup since Pistol Pete and MJ will clash in a brief long-range battle in the third quarter. Pete will nail a three-pointer before MJ responds, and they go back and forth for the next minute and a half. As good as Maravich was, MJ will have his way on the offensive end in the fourth quarter.
MJ will have 30 big points in the game, using his incredible back to the basket play to get himself open fadeaway jumpers and even spin towards the r to draw fouls or finish on Gobert and Malone. MJ will simply be unstoppable, and he will hit a couple of late buckets to push the lead for the Bulls team in this one.
Small Forward: Scottie Pippen vs. Adrian Dantley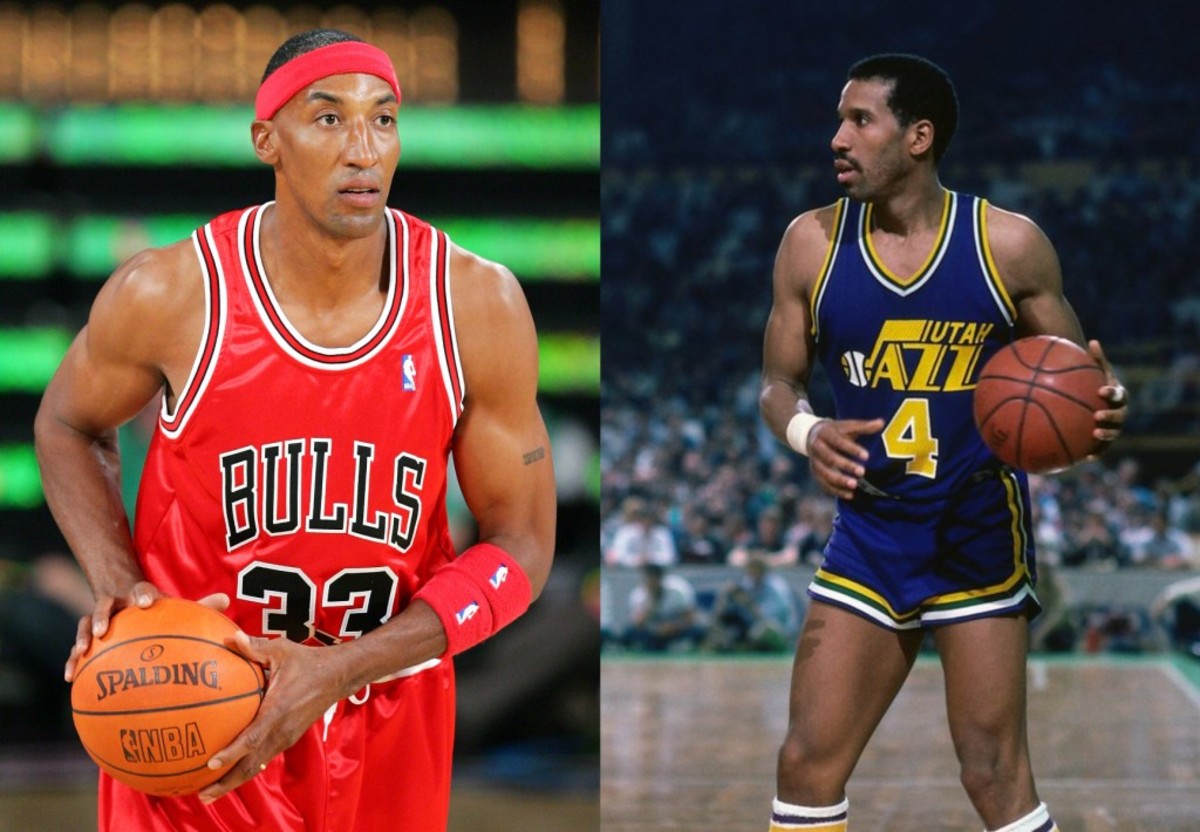 Pippen will be tasked with playing defense and minimizing Dantley's impact on the offensive end. Dantley was a very prolific scorer and made a living off of scoring the ball inside and from the perimeter. Pippen will have to deal with his scoring by picking him up as soon as he crosses half-court, and always switching back onto him. He will have some success since he is one of the best defenders of all time. But Dantley will still find a way to get his buckets and will be the second-leading scorer in his team with 20 points.
Offensively, Pippen will play within the system and feed off of Rose and Jordan. While Rose likes to have the ball in his hands, Pippen will do some of the ball-handling to free him up a bit so he can catch the ball and attack Stockton immediately. The Jazz will be feisty, so Pippens ball-handling will come in handy down the stretch.
Power Forward: Dennis Rodman vs. Karl Malone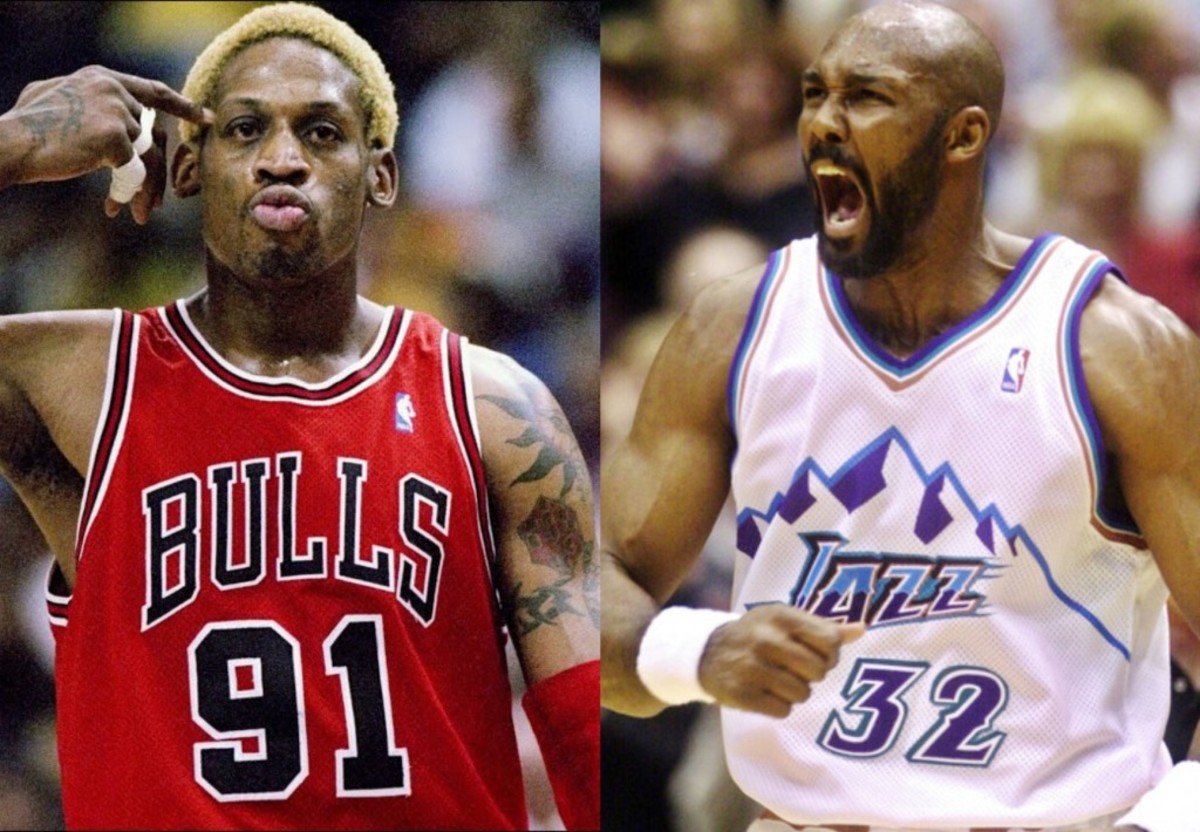 This is a very interesting matchup since Rodman is extremely limited offensively and will be asked to rebound the ball at a very high level while minimizing Malone's impact on offense. This will be easier said than done, as Malone will drop 25 points on a very solid shooting night. Malone and Stockton will make a living off each other, and Malone will find himself open from the perimeter four different times during the game. Malone will also take it inside and use his tremendous strength to finish layups and keep the Bulls on their toes all game long.
However, Rodman will be the leading rebounder in the game. He will snatch 15 rebounds, with 5 offensive boards, giving the Bulls key second-chance points in the second and fourth quarters. Rodman will also play well on offense, basically receiving the ball and making the right play each possession. His chemistry with Jordan and Pippen will be tremendous, and he will also enjoy playing with Rose who will benefit from his rebounding on the break.
Center: Artis Gilmore vs. Rudy Gobert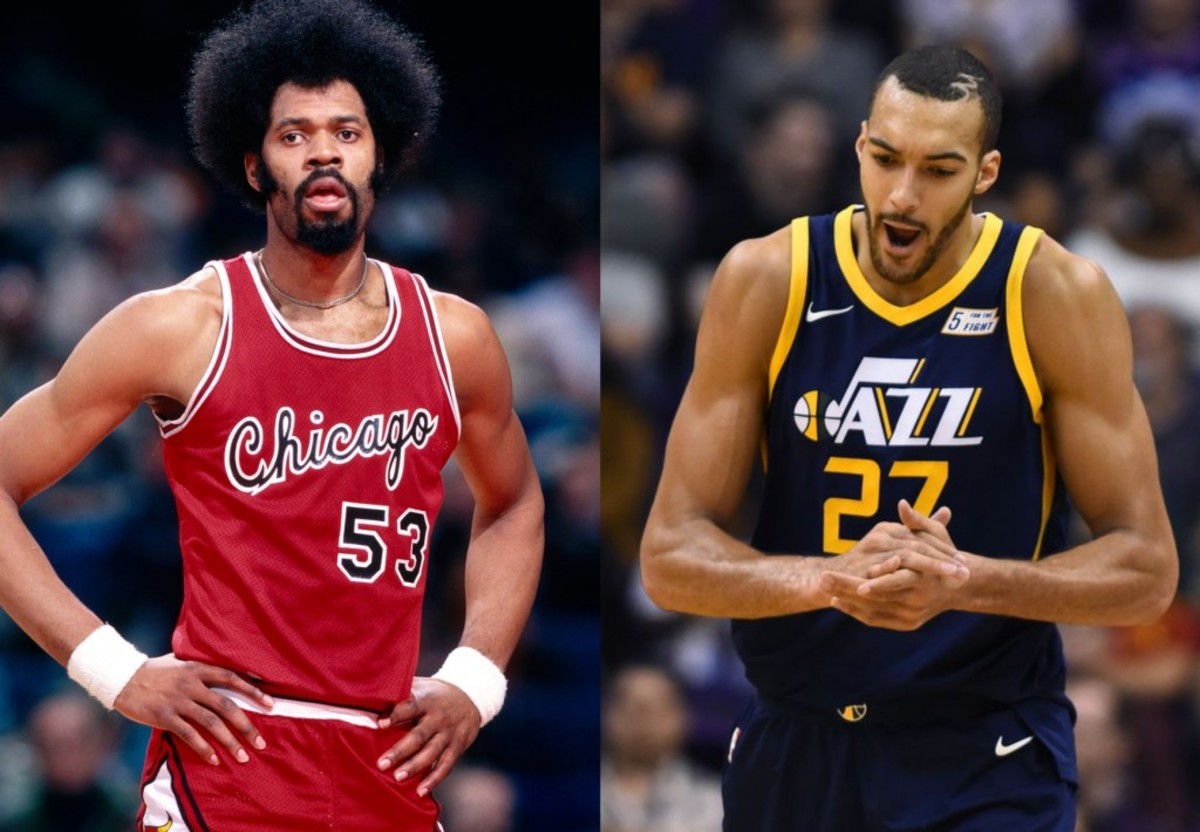 Finally, the center position. Gilmore will have his way early with Gobert, who will immediately get two fouls in the post. Gilmore will also play well alongside Rodman, who will use their size and strength together to box out Malone and win the rebound battle early.
But Gobert will return in the second quarter and greatly minimize Gilmore's effectiveness down low by standing tall and defending without fouling. Gobert will be a nuisance all game long and will bother some of Rose's drives to the lane. Gobert will be the key to a rather low-scoring affair as he will give Malone an excellent partner to defend the rim. This matchup will be the essence of defense, size, and hustle on both ends.
Game Analysis
This will be a very tight game up until the fourth quarter with 3 minutes to go. Both teams will not shoot the ball very well, at around 40% from the field, and this is mainly down to the tight defense played by both teams stars. Gobert will be the man down low, often altering shots by Derrick Rose and encouraging Jordan to settle for mid-range jumpers. Stockton will also be feisty and snatch a few balls off of Jordan and Rose by playing passing lanes and double-teaming Jordan whenever possible.
For the Bulls, Jordan and Pippen will make it very hard for Dantley and Maravich to get open looks and score quick points. They will make them work on every possession, and will once again remind the world why they might be the greatest defensive duo ever.
The game will be tight until the fourth, where Jordan and Pippen's sss defense will stifle the scorers of the Jazz. Malone will hit the final bucket for the Jazz with three minutes to go, before Jordan scores on two straight possessions to put them up 94-90. Rodman will grab a Malone miss and Rose will finish on the break to put them up to six. A steal by Jordan and a late jumper will put the nail in the coffin and the Bulls win by eight.
Final Result
Bulls All-Time Five vs. Jazz All-Time Five 98-90
Next
The Game Everyone Wants To Watch: Lakers All-Time Five vs. Bulls All-Time Five
The Game Everyone Wants To Watch: Warriors All-Time Five vs. Lakers All-Time Five
The Game Everyone Wants To Watch: Team Zen Master vs. Team Gregg Popovich
The Game Everyone Wants To Watch: Jordan's Competition vs. LeBron's Competition
The Game Everyone Wants To Watch: Spurs All-Time Five vs. Rockets All-Time Five