Memphis gained a valuable asset at this year's trade deadline with their acquisition of Justice Winslow. With an extremely young core, a high-powered offense, and a budding superstar in Ja Morant, the Grizzlies have one of the brightest futures in the league.
It was January 31st, 2018.
Following a relatively one-sided victory over the lowly Phoenix Suns two nights prior, the Grizzlies flew to Indiana to begin a four-game road trip. At the time, the Grizzlies weren't particularly bad, given their circumstances. With their All-Star point guard, Mike Conley, sustaining a season-ending Achilles injury within the first month of the new campaign, as well as Marc Gasol beginning to show his age, a struggle was imminent. A playoff team the year before, the Grizzlies were a perfect example of a good team who caught the injury bug at the wrong time. Sure, they were on the receiving end of an ugly eleven game losing streak earlier in the year, and, yes, they might have only been 18-31 following that win in Phoenix. But a depleted, worn-down roster still on pace for a mid-thirties win total? At the very least, the Grizzlies were competitive.
It wasn't until that late January night that the mood in Memphis began to change. The Grizzlies lost in an extremely competitive, wire-to-wire contest with the Indiana Pacers. The night after, the team lost in a similar fashion in a match-up against Detroit. Those two losses were the beginning of the seventh-worst losing streak in NBA history – a period where the Grizzlies saw 19 consecutive games slip through their fingers and end in backbreaking defeat.
They broke the skid in the middle of March, but by that time, their season was well under wraps. Now 18-50, the Grizzlies had the worst record in the league and were well on their way to a high lottery selection – their first since 2009, when they drafted one of the biggest busts of all time in Hasheem Thabeet.
What was supposed to be another great season and eventual playoff run for the perennially competitive Memphis Grizzlies ended with a demoralizing, 22-60 record. While many franchises would hang their heads in disappointment, the Grizzlies embraced the struggle and soon realized that changes were needed for the betterment of their basketball future. After all, the possibility of receiving the number one overall pick in a draft that held future superstar, Luka Doncic, was as enticing as it gets.
But they didn't get the first overall pick.
Nor the second.
Nor the third.
Memphis ended up with the fourth selection in that draft, which – if we're being completely honest – is not what the Grizzlies' front office was hoping for when they hit the tank button halfway through the season. Incredibly, Doncic somehow almost fell to the Grizzlies, but was taken third by Atlanta and shipped off to Dallas in a still-questionable trade. Following the Doncic pick, Memphis selected the highly skilled Michigan State big man, Jaren Jackson, Jr., to be the cornerstone of a team rebuild.
Yet, while Jackson was a great player in his own right, it almost seemed that Memphis was being punished for their tanking in the previous campaign. Albeit they were excited about Jackson and what he brought to the table, to end up one pick short of selecting a generational talent seems like a curse that would doom an organization to a long, grueling decade in basketball purgatory. To make matters worse, tensions continued to pit Mike Conley and Marc Gasol against Grizzlies executives. Clearly, Memphis was in an uncomfortable situation where a difficult decision was inevitable:
Keep the previous core of players that brought the team years of success, or ship them to better situations in hopes of gaining valuable assets to build a new future.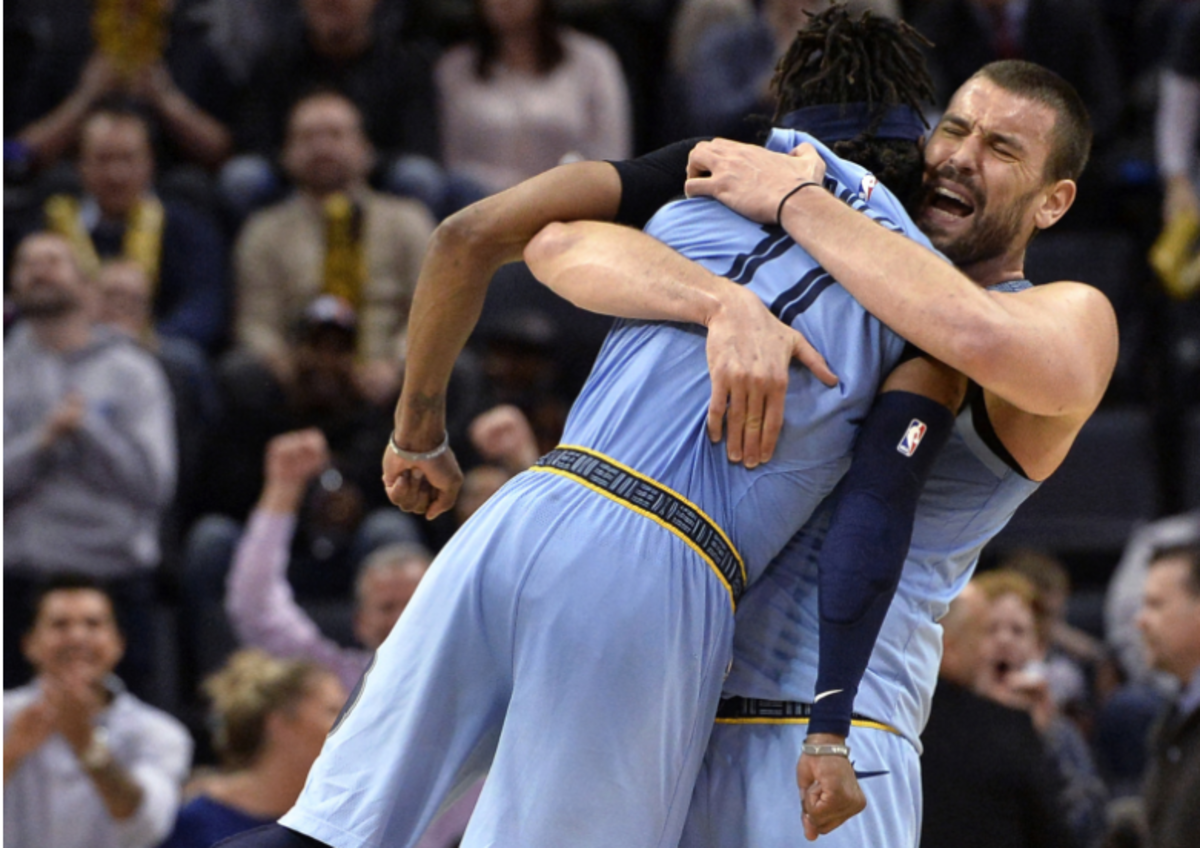 Despite the documented internal issues, the Grizzlies got off to a strong start come the new year. They sprinted out of the gates to a 12-5 record, but briefly sputtered to 18-16. More importantly, though, things seemed to be clicking between the now-healthy Conley and the young, highly touted rookie. Through those first 34 games, Jaren Jackson, Jr. was averaging 13.1 points and 5 rebounds in only about 27 minutes of action per night. Seemingly a playoff team, excitement was temporarily brought back to Memphis basketball. However, their next 15 contests netted only one victory, and after the frustrating, month-long struggle, the Grizzlies made their decision.
It was time to blow it up.
Marc Gasol was traded two weeks later to the Toronto Raptors in exchange for Jonas Valanciunas, Delon Wright, CJ Miles, and a 2024 second-round pick. Following the trade, Memphis limped to the finish line, closing out the season with a 33-49 record – a mark that was bad enough for a top-15 pick in the draft, but good enough to where a high lottery selection was very improbable. The ninth-worst team in the league, the Grizzlies seemingly could not even tank properly.
Fortunately, the one bright spot on the team was Triple-J, Jaren Jackson, Jr. He ended the year with averages of around 14 points and 5 rebounds per contest. Even more impressive were his shooting splits. Shooting 50/36/76 (FG%, 3pt-FG%, FT%), Jackson was the most efficient player in his class. As a matter of fact, of the 20 qualifying rookies who attempted more than 300 field goals, Jaren was one of four players – along with Deandre Ayton, Marvin Bagley, and Harry Giles – who shot above 50 percent. Of those four, Jackson also had the highest free throw percentage and three-point percentage. Incredibly, he attempted more threes (142) than the other three players combined (106). He also made a more significant impact on the defensive end than those three competing big men. Jaren played the fewest games out of the group (58) but had 15 more blocks than Deandre Ayton as well as 1 block more than Marvin Bagley and Harry Giles combined.
Clearly, the Grizzlies had a great piece in Triple-J, but Jackson could not carry the load alone. The team was lacking a real star who would bring excitement to a notable basketball town, fill the seats at the FedEx Forum, and put W's in the win column.
Enter: the NBA Draft Lottery presentation.
As previously alluded to, Memphis was right on the fringe of a high draft selection. Projected to receive the eighth pick in the 2018-19 draft – a draft that only showcased two super talents – the Grizzlies seemed as though they were destined for a disappointing night.
As team logos began to appear out of the envelopes from which they came, it became clear that this draft lottery was much different than previous iterations. Teams who were supposed to draft high – the Suns, the Bulls, and the Hawks – fell to the middle level of the lottery. Teams who were supposed to be at the bottom of the lottery – the Lakers, the Pelicans, and the Grizzlies – evaded their projected positions and jumped to the top-four selections in the upcoming draft. The Lakers and Knicks were announced next, and, after a nerve-racking hour of television, Memphis somehow struck gold via a gift from the basketball Gods.
The second overall selection in the draft was theirs.
A little more than a month later, and two nights before the draft, Mike Conley was sent to Utah in one of the most significant offseason moves of 2019. In exchange for their long-time point guard, Memphis received Grayson Allen, Kyle Korver, Jae Crowder, and the 23rd selection in the upcoming draft.
Come draft night, the Grizzlies found their Conley replacement when they used the second selection to bring the meteoric, high-flying talents of Murray State point guard, Ja Morant, to Memphis. Later in the draft, Gonzaga standout, Brandon Clarke, shockingly fell to the Thunder at the 21st spot in the draft. As stunned as everybody else, Memphis executives paid Oklahoma City GM, Sam Presti, a phone call. Within minutes, the Grizzlies orchestrated a deal that sent the 23rd pick they had received for Mike Conley (as well as a future second-round pick) to the Thunder in exchange for the aforementioned Clarke. A top-10 talent with explosive athleticism and a motor that never stops, Brandon Clarke was a perfect candidate to welcome in a new era of 'Grit and Grind' in Memphis.
Within six weeks, Memphis went from being a potentially downtrodden organization to being a team with young, exciting talent at every position. Later in the offseason, the Grizzlies capitalized on their assets acquired in their Marc Gasol transaction. Delon Wright was eventually traded for two additional second-round picks, and CJ Miles was moved to the Wizards in a deal for Dwight Howard's contract in a maneuver to clear future cap space. They also traded for Golden State cornerstone and former NBA Finals MVP, Andre Iguodala, as well as a future first-round pick in a move that helped the Warriors clear up cap space.
After stockpiling assets and accumulating young talent, the stage was set for another mediocre season. This time, the Grizzlies were optimistic about mediocrity. After assembling a youthful core led by Triple-J and a future star in Ja Morant, another high draft selection would perfectly round out Memphis' roster and complete the rebuild far ahead of schedule.
As expected, the Grizzlies began the season in a bit of a malaise. Though Ja was as exciting as could be, and though Jaren Jackson, Jr. made significant improvements from his rookie campaign, Memphis was only 13-22 through their first 35 contests. Their Iguodala acquisition proved to be a problem, as well. The former Warrior – demanding a buyout – refused to suit up for the team in hopes of being picked up by a championship contender.
From the jump, it appeared as though this iteration of the Memphis Grizzlies was destined to be one of those paradoxical teams who play extremely competitive basketball on a nightly basis but still finish the season drastically under .500.
But then, things changed.
In an early January contest against the Clippers, the Grizzlies went full-blown gangbusters and smashed the Clips in Los Angeles by 26 points. That emphatic victory sparked a fire in the Grizzlies that has yet to be put out. Starting with the shellacking of the Clippers, the Grizzlies have won 13 of their last 17 games, including impressive victories over the Spurs, the Rockets, the Nuggets, and the Mavericks. Ja Morant has become far more comfortable and efficient in his starting role, averaging 17 points and 7.8 assists per night during the 17-game stretch. Jaren Jackson, Jr. has stepped up as well, averaging 17 points of his own as well as roughly 2.5 blocks per game since the start of the run.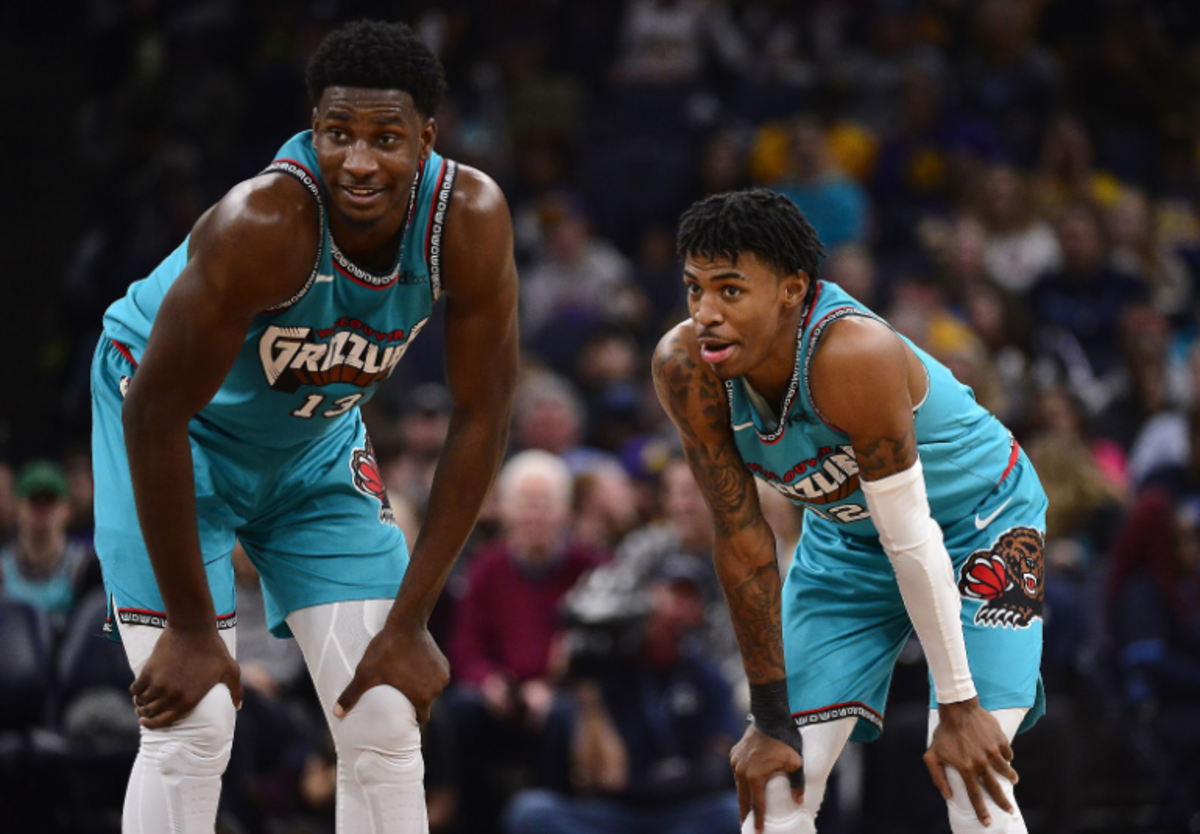 With the trade deadline approaching and the team experiencing their first bit of success since the 2016-17 campaign, the Grizzlies knew a move had to be made. Fortunately, Memphis was sitting on a high-demand asset in anticipation of this very moment: Andre Iguodala.
In the year's first deadline trade that made reverberating waves throughout the NBA, the Grizzlies sent Iguodala, Jae Crowder, and Solomon Hill's egregious contract to the Miami Heat in exchange for Justise Winslow, Dion Waiters, and James Johnson. Dion Waiters will inevitably be released, and James Johnson has already been traded for young Timberwolves big man, Gorgui Dieng, but these moves matter little. The key to this trade was their addition of Justise Winslow.
At only 23-years-old, the former Duke standout has had a fairly up-and-down career. During his 2015-16 rookie campaign in Miami, Winslow played 78 games and struggled to find a rhythm throughout the season. Playing almost 29 minutes per night, he only averaged six points per contest. The following season, Winslow only played 18 games before suffering a season-ending shoulder injury. It wasn't until the 2018-19 season that Winslow began to make a name for himself in league circles.
In an unfamiliar position, Miami was forced to scheme differently after sustaining an injury to their starting point guard, Goran Dragic. Dwyane Wade filled in at point guard for a few games, but this proved to be problematic to any playoff push the Heat wished to have. Finally, after showing Erik Spoelstra some impressive playmaking abilities, point-Justise was activated.
Throughout the first 16 games with Winslow unleashed at point guard, Miami went 10-6 and looked like a completely different team. Playing at a slightly slower pace, Justise had multiple games where he recorded double-digit assists. Not only were the Heat better offensively, but their defensive line-ups caused fits for the opposition. Winslow has always been a hard-nosed, athletic defender, and he was finally able to showcase all of his skills with the new system the Heat operated under. Because of this, it should serve as no surprise that, after being installed at point guard, Winslow helped boost Miami's net rating to seventh in the entire league.
Memphis is getting a guy in Winslow that can alleviate some of the offensive burden off of Ja Morant as well as shrink the floor for the opposition on the defensive side of the ball. Though he has battled a lingering back ailment this season, you can fully expect Winslow to step into the Grizzlies rotation and make an immediate impact upon once healthy.
This season, Memphis has been a top-5 team in pace and a top-10 team in points per game. Their defense has left a lot to be desired, but that is expected of an inexperienced roster. Their core is more exciting than it has been in a long time. By the time 2022 rolls around, the core will still include Ja Morant (22-years-old), Jaren Jackson, Jr. (22), Dillon Brooks (26), Justise Winslow (25), Brandon Clarke (25), Jonas Valanciunas (29), Kyle Anderson (28), and Tyus Jones (25). Incredibly, the salaries are even more appealing than their skill level. Almost every single player on their roster is being had for a bargain. Of those eight players under, only three will make more than $10m in 2022. Combined, this core will consist of only $79m in cap space entering the free agency market in 2023, and that is if they want to extend Justise Winslow's team option of $13m to him that summer.
This also does not include any future draft selections the Grizzlies have, and they have a lot. If the season were to end today, Memphis would be slotted to have three first-round picks and twelve – that's right, twelve – second-round picks through the 2023 season.
With a youthful core, a motivated front office, a promising coach, and enough draft picks to either add young talent or make moves for a strong veteran presence, the Grizzlies seem to have their future well under control.
For the first time in a while, NBA teams should be afraid to poke the bear.