As basketball fans, we're all entitled to our very own opinions, even if they may not be entirely true. Obviously, that's not going to stop us from debating with peers and rivals on whether a team or player is better than other.
Kyrie Irving and Stephen Curry have often been compared by fans and insiders. They're not your average pass-first point guard, they're both great scorers, shooters, ball handlers and proven winners, and neither of them is very good on defense.
Thus, we're going to contribute and put an end to this debate, stating facts over opinions, and breaking down both players to try and finally determine who's a better player: Curry or Kyrie. I would love to have either on my team, though.
Inside Scoring: Kyrie Irving
While both are great inside scorers and Curry surprisingly shoots over 63% from within close range despite being more known for his three-point shooting expertise, we have to give Kyrie Irving the nod here, as he shoots over 70% from close range to his athletic layups and floaters. Uncle Drew brings all the juice every time he drives to the lane, while also shooting over 83% from the restricted area.
Outside Scoring: Stephen Curry
Kyrie Irving is a great three-point shooter, connecting in 2 of his 5.2 attempts a night for a very nice 38.8% shooting average from three-point territory. Nonetheless, he's competing against the greatest shooter that has ever set foot on the face of the earth on Stephen Curry, a career 43.6% shooter from three-point land that hits 3.4 three-pointers a night and owns pretty much every three-point shooting related record in the game.
Playmaking: Stephen Curry
While Kyrie Irving is a crafty passer and an outstanding playmaker, he tends to get a bit to carry around with his offensive skills and often forgets about the fact that he's supposed to be a facilitator. Curry, on the other hand, doesn't mind taking a step backward at times in order to find an open teammate. Also, Curry has averages of 6.8 dimes a game compared to Irving's 5.5.
Athleticism: Kyrie Irving
Stephen Curry is really crafty and agile, but he's not that athletic, so Kyrie Irving gets our nod here. Kyrie has great hops and can dunk the ball with great ease, not to mention the fact that he often contours his body in order to get to his sweet spots on offense and finish acrobatic layups from his never-ending bag of tricks.
Defense: Stephen Curry
Even though neither of them is such a good defender, we have to go with Stephen Curry in this one too. Curry has 1.8 steals per game average compared to Kyrie's 1.3 steals a game. Also, he's recorded 24.1 defensive win shares over his career compared to Kyrie's 11.8 (in just one more season). When it comes to defensive plus-minus, they're pretty much the same, as Curry has recorded -0.6 while Kyrie has logged -0.7.
Rim Protection: Kyrie Irving
Naturally, we don't expect any of these players to be much of a rim protector, but if we had to choose one of them, we'd have to go with Kyrie Irving. Besides being way more athletic, Kyrie has recorded 0.3 blocks per game compared to Curry's 0.2, also, Steph has never logged more than 2 blocks in one game compared to Irving's 4.
Rebounding: Stephen Curry
Neither of them is much-committed defenders or rebounder, but over the course of his career, Curry has been better than Kyrie, although not by a long shot. Kyrie has recorded 3.4 boards a game, mostly because he doesn't really care about that regard, while Curry has grabbed 4.4 rebounds a contest, perhaps just because of the fast pace, the Warriors feature on offense.
Ball Handling: Kyrie Irving
Curry's handles are sick. I mean, people actually get way early just to see him go through his warm-ups because he does things just a handful of players would be able to do. Nonetheless, Kyrie's handles are just the best in the world, and the best I've seen since guys of the likes of Jason Williams. He's actually capable of embarrassing any player in the world as he does on those Uncle Drew clips, he can get through the tightest of spots and never take the rock out of his hands. He's just impressive.
Clutch: Kyrie Irving
Even though Kyrie Irving has been really clutch throughout his entire career and he even hit a cold-blooded dagger over Stephen Curry three years ago in the Finals, Curry has been way more clutch over the course of the last couple of seasons. See, even if Kyrie has logged 4.2 points compared to Curry's 3.9, Curry has shot 51.5% from the field and 40.9% from three-point land compared to Kyrie's 47.5% from the floor and a mediocre 26.5% from three-point land.
But, in the clutch situation, we can't stick 100% with the stats, because Kyrie Irving scored one of the most important three-pointers in the NBA Playoffs, so I will select Kyrie Irving as a better player during clutch situations.
Leadership: Stephen Curry
Curry has been way more of a leader than Kyrie just because of the fact that Stephen has never cared about his personal stats or his records, he just wants to do whatever it takes to win. He has encouraged the team to sign more stars, while Kyrie wanted to leave a team where he could easily win a Championship just to become another team's go-to-guy. They're both great players, and they both could single-handedly leave their respective teams to a Championship, but Curry is way more mature.
Basketball IQ: Stephen Curry
We have to go with Stephen here because he's arguably the most coachable player in the league. His off-ball movement is one of the best we've ever seen, and he constantly finds a way to have an open shot or find a wide-open teammate. Kyrie, on the other hand, isn't as easy to coach, as he's constantly whining when he was in Cleveland, while he is looking more mature in Boston so far.
Impact: Stephen Curry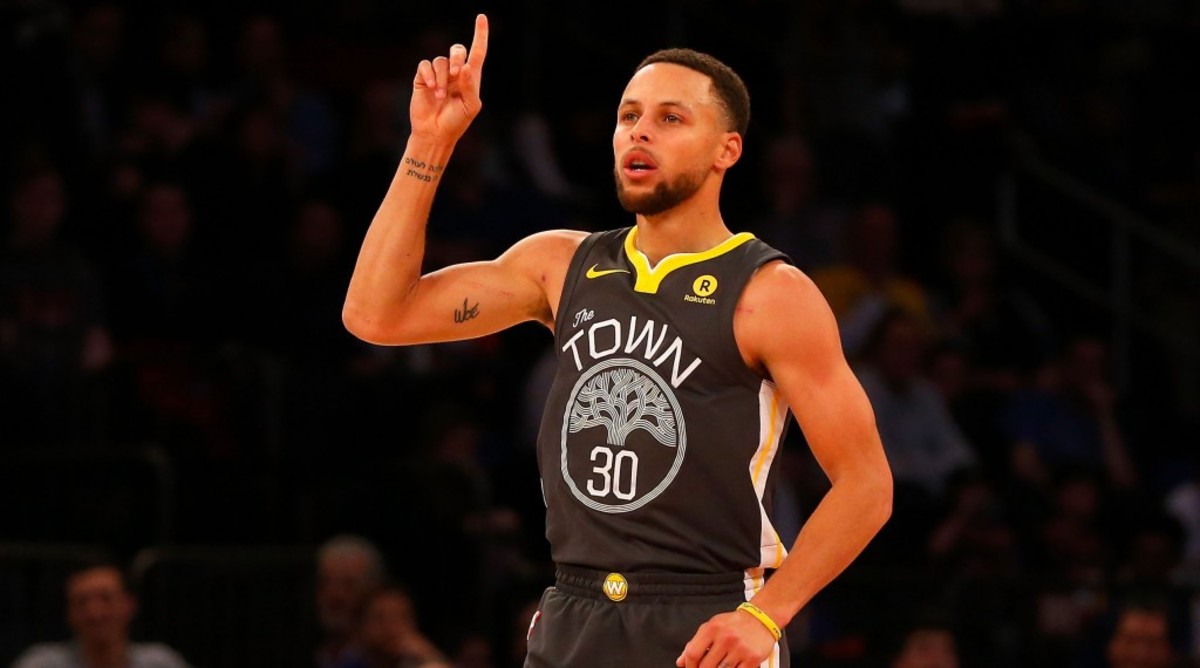 Kyrie Irving is a hell of a scorer that needs at least two pesky defenders to be properly contained if that's even possible. Nonetheless, Stephen Curry forces every single player on the team to put a lot of hustle in the defensive end of the hardwood. Due to Curry's shooting, you can't double any of his teammates and give him a wide-open shot from three, as you know he can connect from every spot on the hardwood. Also, he's a more willing facilitator and vocal leader than Kyrie.
Final Score:
Stephen Curry 7 – 5 Kyrie Irving