Dwight Howard is now part of the Philadelphia 76ers after agreeing to a one-year deal with the team. Howard had a very entertaining Friday, hinting what his next move was going to be before deciding something completely different and joining the Sixers.
Howard tweeted that he was going to remain with the Lakers; he deleted the tweet quickly, leaving fans wondering what happened with the player. A couple of hours later, Shams Charania of The Athletic announced that Howard was headed to Philadelphia after signing a one-year deal with the franchise.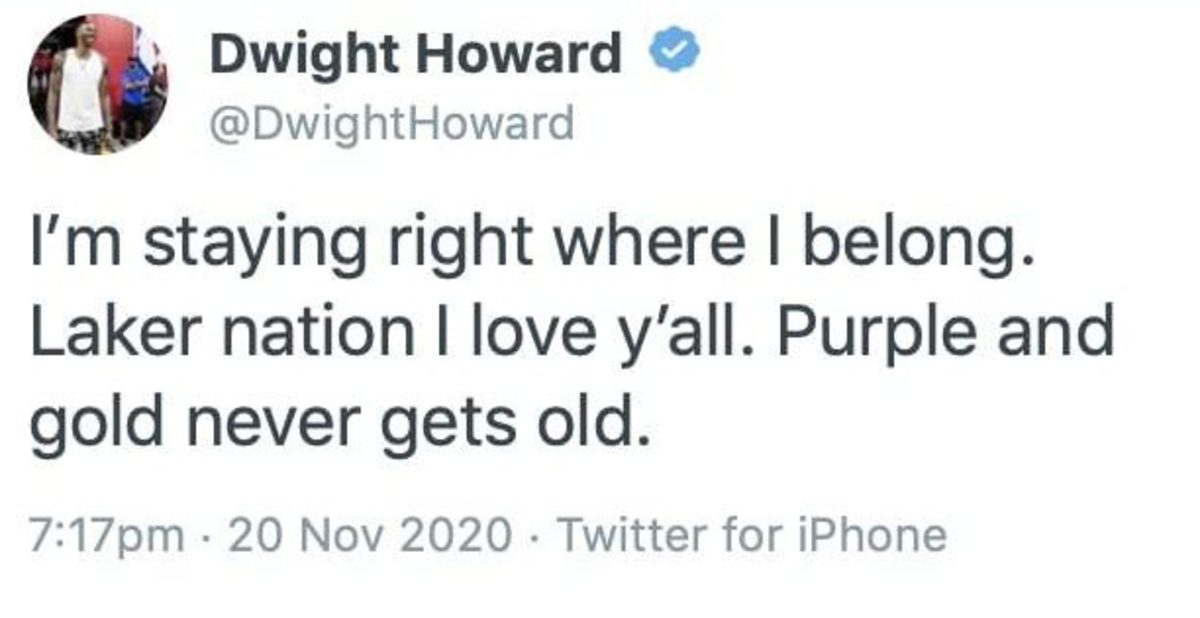 Of course, this came as a big surprise for the Lakers and their fans. D-12 had just committed to the Lakers before he signed with Philly and Lakers fans took offense to it. NBA Twitter exploded after this and everybody had something to say about this situation.
"Dwight Howard coming back to the Lakers"

Dwight Howard: pic.twitter.com/RUD8pHQNZf

— Josiah Johnson (@KingJosiah54) November 21, 2020
"Hey Dwight, tweet that you're going to re-sign with the Lakers." pic.twitter.com/yEIAc0xKRn

— Vincent Perricone (@VPerricone92) November 21, 2020
LeBron rn pic.twitter.com/6xtJTJM91s

— Stevie 👑 (@steviesburner2) November 21, 2020
Bruh…..

Dwight left the Lakers for the MINIMUM!?!?!?!?!?

— Colb (@___Colb___) November 21, 2020
Dwight hoed us twice in a decade pic.twitter.com/GpMNBCW3hg

— 🔳 (@srekal_) November 21, 2020
Lakers fans back to slandering Dwight Howard pic.twitter.com/vdtRRfhn3I

— ThrowbackHoops (@ThrowbackHoops) November 21, 2020
Dwight Howard tweeting he's coming back to the Lakers and then signing with the Sixers an hour later pic.twitter.com/wVV8kUYGvv

— Barstool Sports (@barstoolsports) November 21, 2020
This one is disappointing. Dwight def had an impactful role on this Lakers team and sacrificed to be a Champion. Loved how he gave us a size advantage over other teams

If the money was similar, wonder why he would leave.. https://t.co/u4RqPHPvgc

— Allen Sliwa (@AllenSliwa) November 21, 2020
Wouldn't have minded if Dwight didn't fuck with us earlier today. https://t.co/pCWVCLio35

— Ben Rosales (@brosales12) November 21, 2020
The Lakers ultimately signed Montrezl Harrell, which is seen as an upgrade to Howard. Harrell is way better than Dwight on the offensive end and he will be comfortable coming off the bench to replace Anthony Davis. Howard finished last season as a very valuable piece for the Lakers; now he's a detractor and everything about him is bad. Well, he left as an NBA champion and that is certainly a victory.