The Los Angeles Lakers faced off against the Miami Heat in the NBA Finals during the bubble: it was the first time that the franchise has made it back to the Finals without James. It was a fun matchup, and it was interesting to see LeBron James go up against his former coach in Erik Spoelstra. The Miami Heat lost in six games during the series, and the Lakers took home the championship.
A fun thought about the matchup is thinking about what would happen if the two all-time teams for the Miami Heat and the Los Angeles Lakers faced off against each other. That matchup would be intense: the Los Angeles Lakers have plenty of all-time greats, but the Miami Heat would also have some elite players. Here is how the game would go:
All-Time Lakers: Magic Johnson, Kobe Bryant, LeBron James, Kareem Abdul-Jabbar, Shaquille O'Neal
All-Time Heat: Dwyane Wade, Jimmy Butler, LeBron James, Chris Bosh, Alonzo Mourning
Point Guard: Magic Johnson vs. Dwyane Wade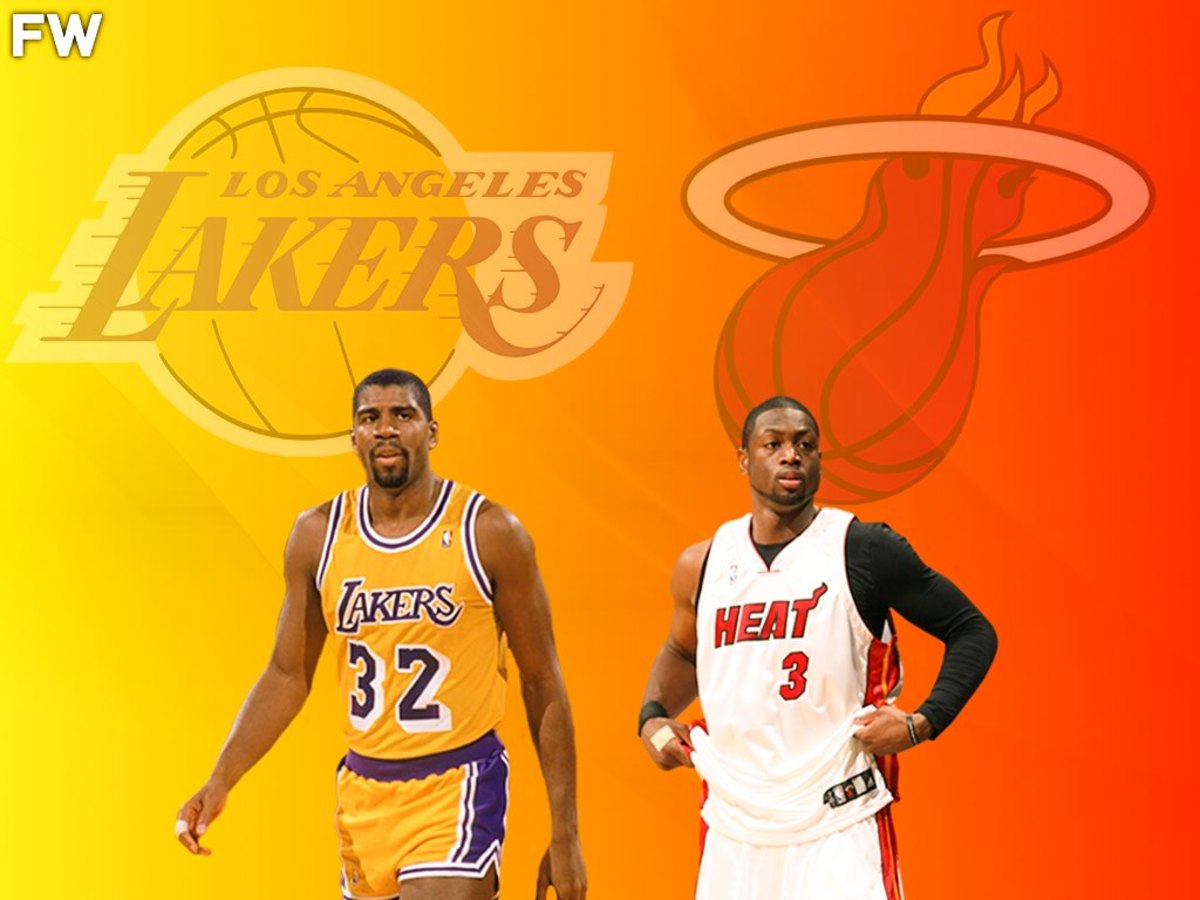 This would be an extremely interesting matchup. Magic Johnson is a traditional point guard who also had the size of a power forward. Magic Johnson focused on his passing and has had many seasons with double-digit assist averages. That isn't to say Magic Johnson couldn't score when needed: he always did what the team needed from him, and was an extremely clutch player. Dwyane Wade, on the other hand, is a smaller guard who is closer to the modern era: he was lightning quick to get to the rim and had a scoring focus as compared to the playmaking guards of the past.
On the Los Angeles Lakers team, Magic Johnson would be one of the primary perimeter players. He would be extremely valuable due to his ability to guard multiple positions and switch onto bigger players because of his size. Dwyane Wade wouldn't have to shoulder a huge playmaking load and could focus on scoring, as he has capable passers like LeBron James and Jimmy Butler handling the running of the offense. Dwyane Wade gets a slight edge here. While Magic Johnson was clearly the better player, on the Lakers team his skills overlap with the passing skills of LeBron James, neutralizing some of the value that his playmaking brings.
Shooting Guard: Kobe Bryant vs. Jimmy Butler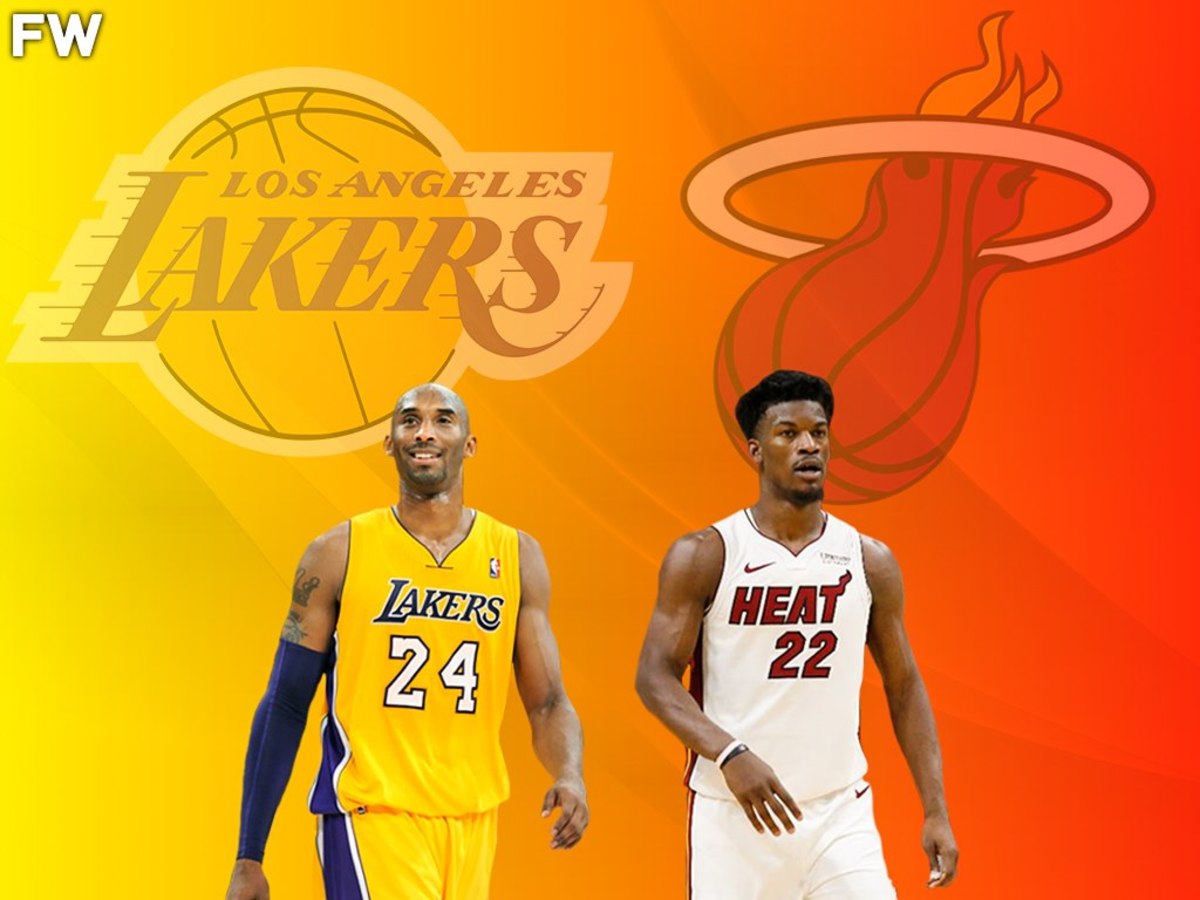 Kobe Bryant is easily one of the best shooting guards of all-time. His ability in isolation was amazing, and he has 5 NBA championships to prove that he is a winner. Kobe Bryant was a three-level scorer who could do everything on the court and played elite man-to-man defense. Bryant is the complete shooting guard, and his shot creation is absolutely insane. We've all seen him knock any kind of shot down, and no-one is surprised at Kobe Bryant scoring points. Jimmy Butler is a player who has an all-around two-way game: Butler plays hard on both ends and is able to carry an offense for big periods of time.
The edge here obviously goes to Kobe Bryant. Jimmy Butler is a great player, but Kobe Bryant is on another level. Butler would probably do well on Kobe Bryant on the defensive end, but no-one truly stops a scorer of his level. Kobe Bryant's scoring is astounding, and even the threat of his scoring is dangerous enough to unlock his playmaking. Bryant wins the matchup, though Butler will make it difficult on the Hall of Famer.
Small Forward: LeBron James vs. LeBron James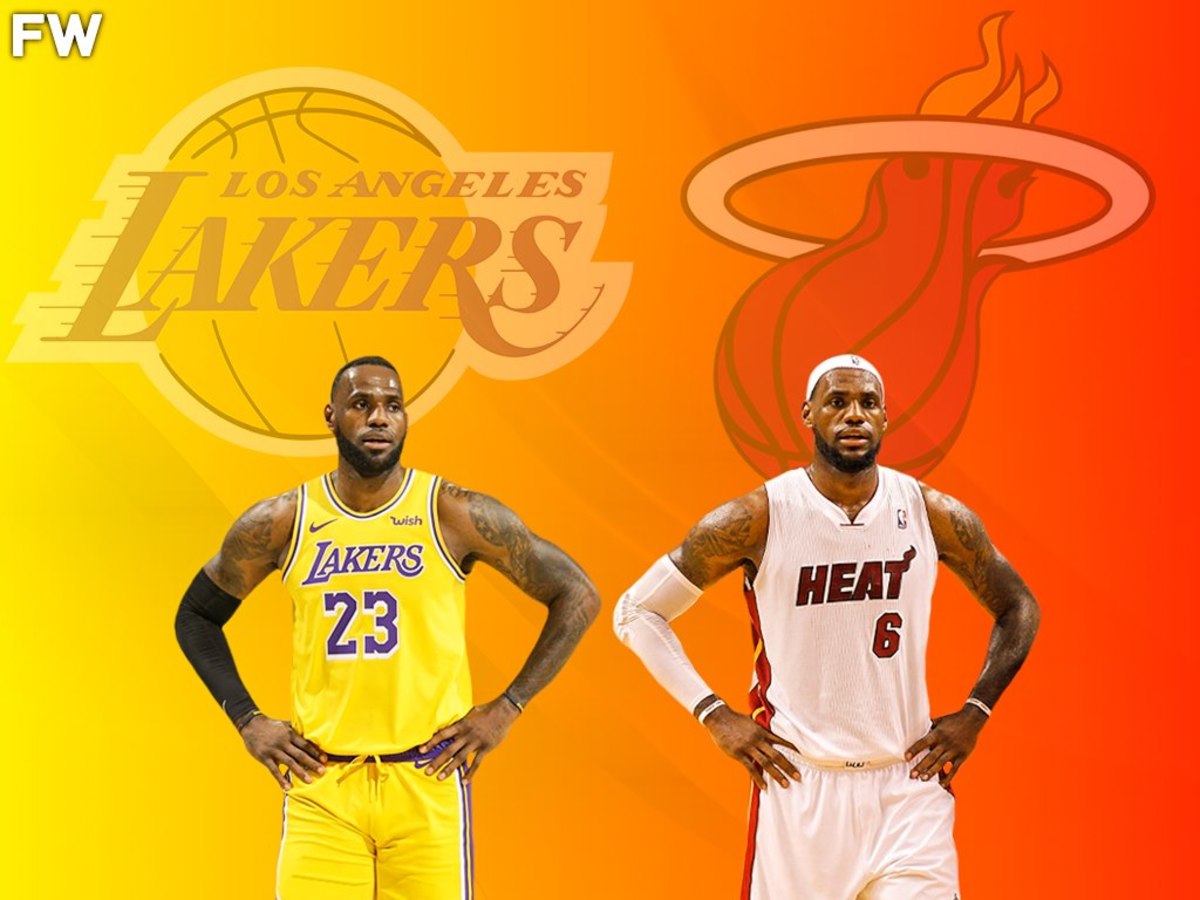 LeBron James has been an elite player throughout his career, and his playstyle has been the same blend of playmaking and scoring throughout the years. Miami Heat LeBron James was the best player in the world at the time, and his athleticism and defense looked otherworldly. Los Angeles Lakers LeBron James is still the best player in the world, but over time, he has developed his skillset into being more complete. In Miami, James was able to do anything he wanted on the court due to his natural talent and athleticism. On the Los Angeles Lakers, he is a better version of himself, older and wiser.
Los Angeles Lakers LeBron James gets the nod here because he is more experienced than the younger version of himself. As he got older, he removed some of the holes in his game, such as his shooting. It makes sense that the Lakers version of LeBron James would be able to use his basketball IQ to exploit those same weaknesses in the game of his younger self.
Power Forward: Kareem Abdul-Jabbar vs. Chris Bosh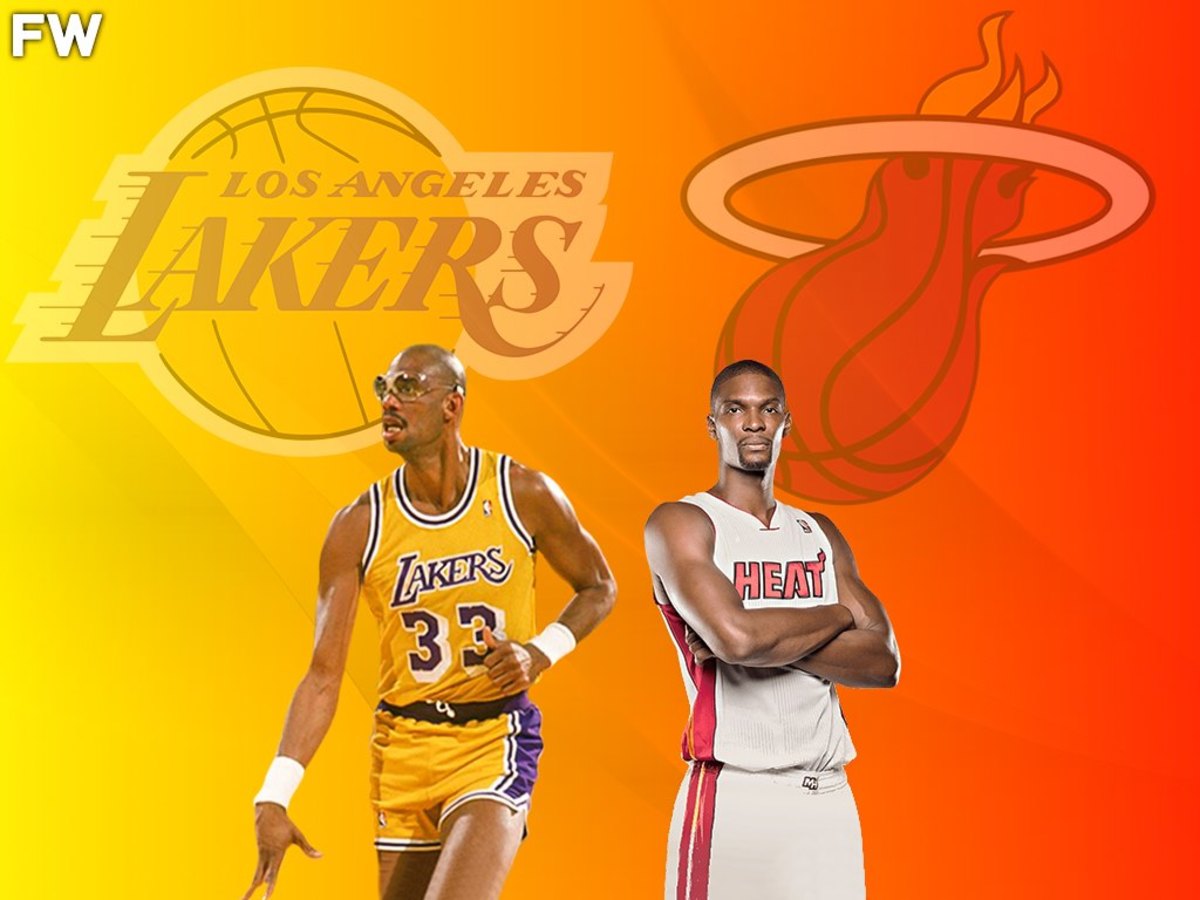 Kareem Abdul-Jabbar is one of the greatest centers of all-time. Abdul-Jabbar had an amazing inside game, and his skyhook move was unguardable. He was an elite defender and was able to use his height and length to block shots from any player. Abdul-Jabbar was an offensive force during his era, plain and simple. Chris Bosh on the Miami Heat was the version of himself that sacrificed parts of himself to win. But he was still a multiple-time All-Star, who could stretch the floor at a high level, and used his athleticism in order to score inside against opponents.
While Kareem Abdul-Jabbar is the better player, the edge in the matchup goes to Chris Bosh due to the modern game. Putting Chris Bosh on the perimeter should pull Abdul-Jabbar out of the paint on the defensive end, negating some of his two-way value. While Kareem Abdul-Jabbar would probably score on Bosh a lot simply due to size, the Los Angeles Lakers spacing would be hurt due to Abdul-Jabbar not having a jump shot.
Center: Shaquille O'Neal vs. Alonzo Mourning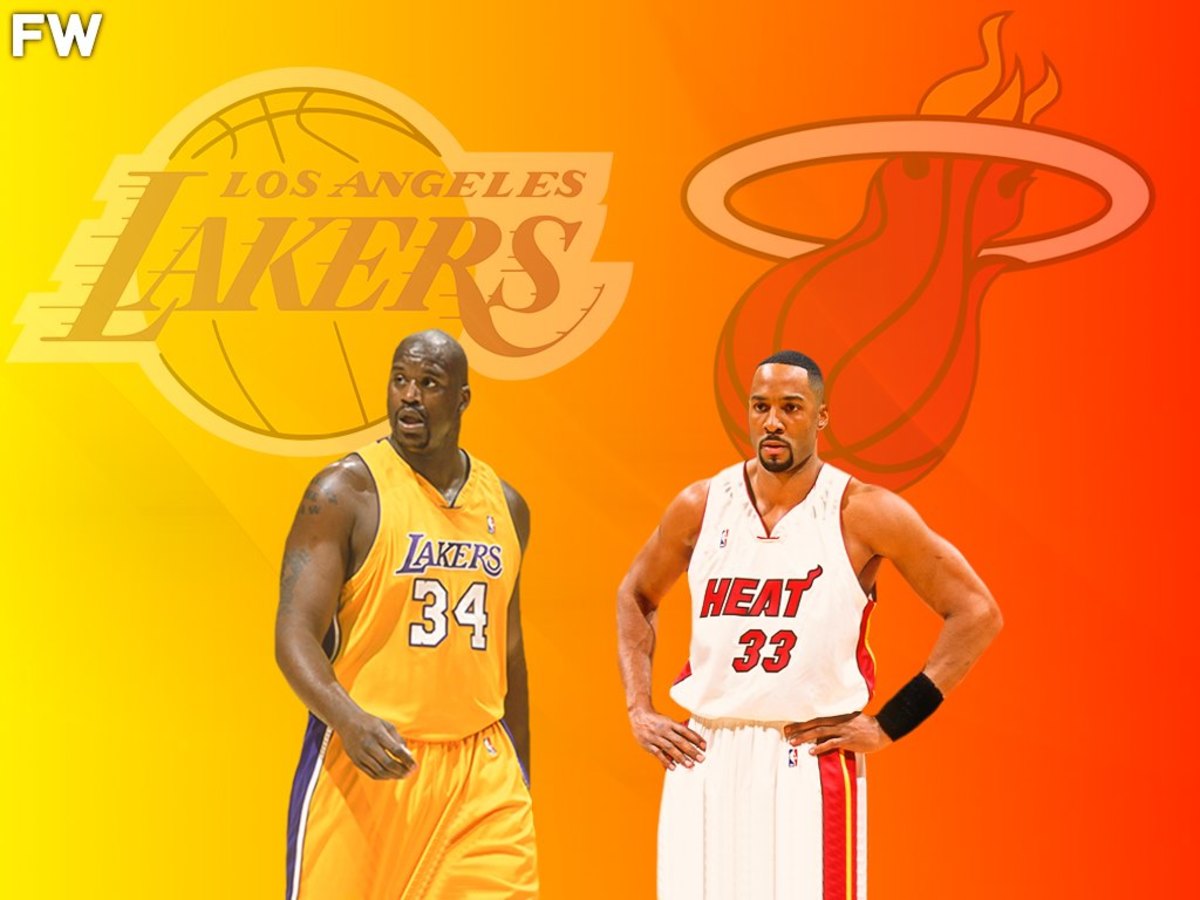 Shaquille O'Neal is widely considered the most dominant center of all-time. His peak was absolutely insane, and he managed to three-peat during his prime. Shaquille O'Neal can dunk on just about anyone when he gets within range of the rim: he was simply unstoppable. On the defensive end, Shaquille O'Neal was a great intimidator, and people often avoided driving the ball on him. Alonzo Mourning was an elite rim protector and inside scorer. During his prime, Mourning was one of the best players in the league, and there are plenty of highlights from Mourning blocking shots.
Shaquille O'Neal wins this matchup: there aren't many centers who can stop Shaquille O'Neal, plain and simple. While Alonzo Mourning was a good defender and might have slowed down Shaquille O'Neal a little bit, there's no stopping the most dominant inside force that we have ever seen. Shaquille O'Neal's offensive firepower is simply too great.
Game Analysis
During the first quarter, it is likely that the Los Angeles Lakers play through Shaquille O'Neal, simply throwing him the ball and letting him go to work on whoever is guarding him. Shaquille O'Neal would get out to a hot start due to nobody quite being able to guard him, but would eventually tire, forcing his teammates to keep the offense going. On the Miami Heat end, they would likely try to contain Shaquille O'Neal with their elite defenders, but it would be their scoring that could keep them in the game. Jimmy Butler and Dwyane Wade would likely score a decent amount to start, with Chris Bosh shooting the occasional open three. Lakers lead, 33-24.
During the second quarter, the Miami Heat would likely stabilize, and LeBron James (Miami) would take over the game. LeBron James in Miami was at his peak athletically, and it would be hard to stop him if he was barreling to the rim. Miami LeBron James would likely force double teams, leading to easy opportunities for his guards and Chris Bosh on the perimeter. The Los Angeles Lakers would likely have Magic Johnson leading their offense, and providing some solid defense on the other end. The Miami Heat would go on a run, but the Miami Heat would eventually stem the tide. Lakers lead, 60-56.
The third quarter would be key for the Miami Heat. They would run in transition heavily on the offensive end, tiring out the two big men on the Los Angeles Lakers team, while getting the athletic Alonzo Mourning some easy baskets inside. They would go on a 15-4 run at the start of the quarter. The Los Angeles Lakers make a switch, and start playing through Lakers' LeBron James on the offensive end. LeBron James has a complete quarter, setting up Shaquille O'Neal and most of all, getting Kobe Bryant going. Kobe Bryant has been quiet so far, making a three-pointer and some free throws for a measly 5 points. But at the end of the quarter, Kobe Bryant suddenly has 17 points. While the Miami Heat leads at the end of the quarter, it looks like the Lakers have the momentum. Miami Heat lead: 80-84
The fourth quarter is where the Los Angeles Lakers take over. They would start running plays that would put the Miami Heat's smaller guards against their big centers on the defensive end, meaning easy buckets inside for the Los Angeles Lakers. Despite LeBron James (Miami) doing his best to carry the offense for Miami, the combined clutch shot-making of Kobe Bryant and LeBron James (Lakers) would be too much to overcome. James and Bryand would make clutch shots down the stretch while also playing suffocating defense. Lakers Win: 115-110.
Final Score
All-Time Los Angeles Lakers vs All-Time Miami Heat: 115-110
Finals MVP: Kobe Bryant (28 points, 7 rebounds, 4 assists)
Next
NBA Rumors: Golden State Warriors Could Acquire Nikola Vucevic for Kelly Oubre Jr., Kevon Looney, Brad Wanamaker And Two Future Picks
3 Reasons Why LaMelo Ball Will Win The Rookie Of The Year Award
NBA Rumors: Chicago Bulls Could Acquire Buddy Hield For Coby White, Luke Kornet, And Thaddeus Young
Who Was The Better Rookie: 19-Year Old LeBron James vs. 21-Year Old Michael Jordan
NBA Players Most Likely To Retire This Decade: LeBron James, Kevin Durant, Stephen Curry