The Golden State Warriors have broken all kinds of records, and they're looking as the strongest team to ever set foot in the face of the earth, even ahead of the mighty and beloved Jordan Bulls.
Ever since Steve Kerr took the reins of the team, these guys have built such a strong chemistry and flawless system, that they look as if they're just never going to be dethroned, at least while their core is still on their prime.
Winning 3 of 4 Championships and coming off back-to-back trophies, the Dubs have even added more firepower to their already scary squad by landing DeMarcus Cousins, and they're bound to feature 5 All-Stars on their starting 5, something you would be able to do only in NBA 2K or something like that.
At least on paper, this Golden State Warriors team could beat pretty much all teams in basketball history, even team USA. Today, we're going to wonder how a 7 game series between the Dubs, and Team USA 2016 (minus Warriors players).
Golden State Warriors
Coach: Steve Kerr
PG: Stephen Curry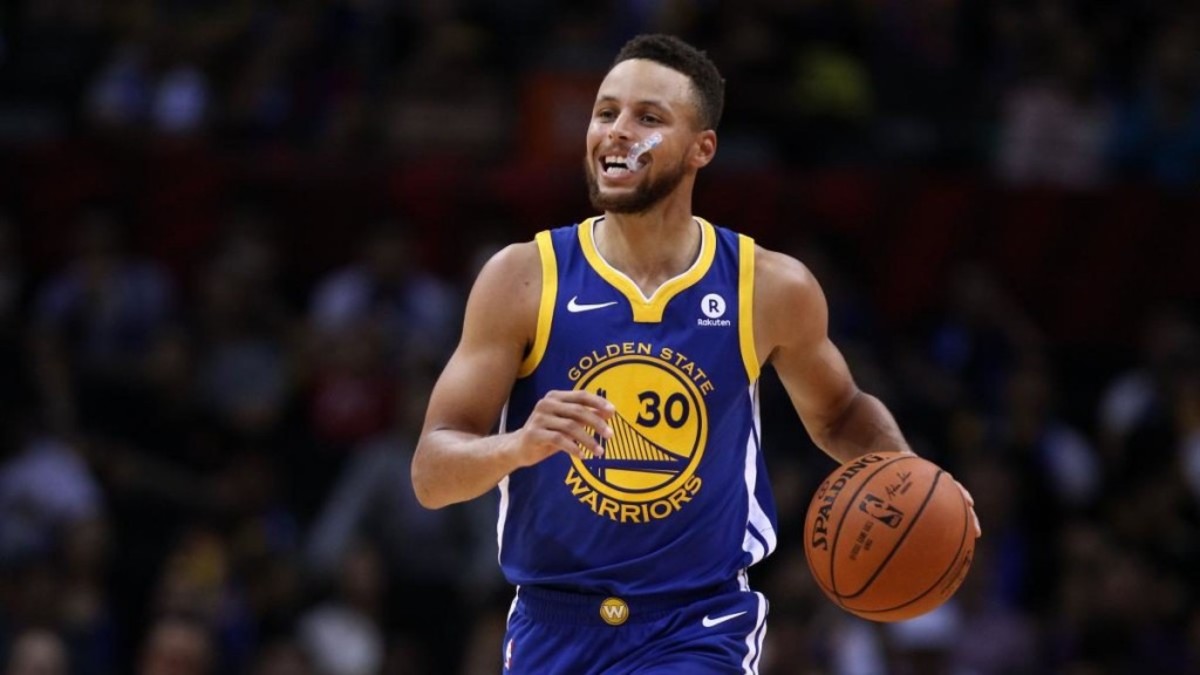 Stephen Curry is the best shooter to ever set foot on this planet. Period. His haters may argue he's overrated, but he draws so much attention from defenders that he makes it really easy for his teammates. Even when heavily guarded, he can just pull up from everywhere on the floor and make a fool out of the greatest defenders in the world.
SG: Klay Thompson
Klay Thompson could be any team's top gunner, but he's happily embraced a role as the team's 3rd scoring option. That's just how stacked this team is. He's an incredible pure shooter and a very gifted offensive talent, while also being one of the best backcourt defenders in the world. He's got it all.
SF: Kevin Durant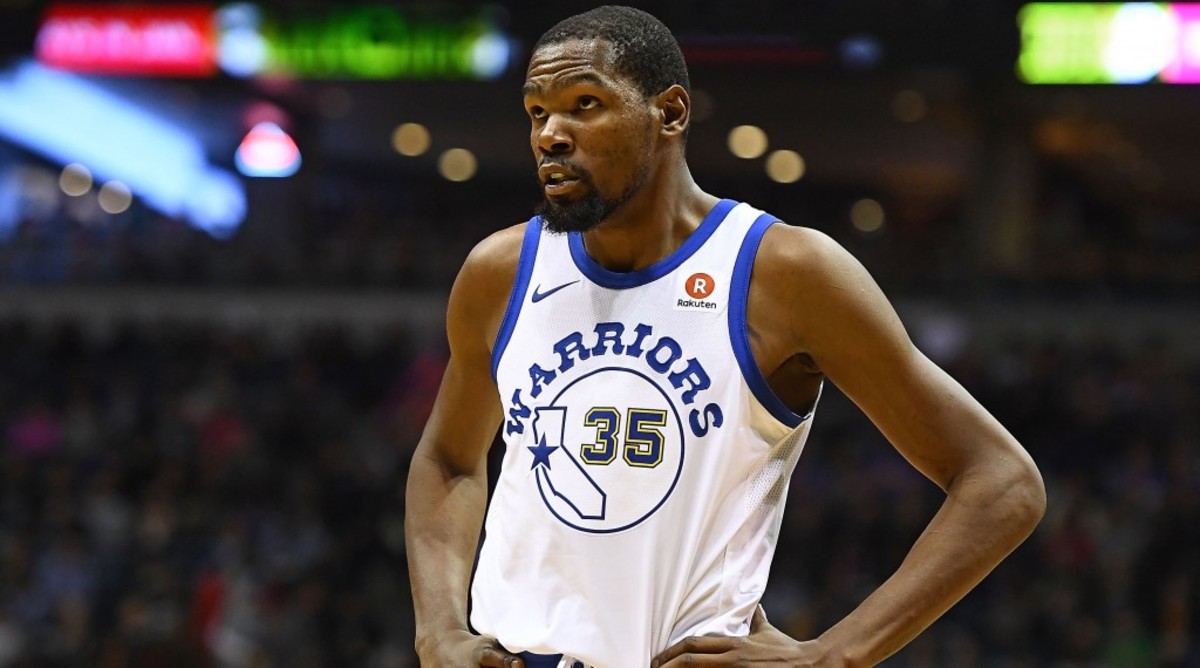 Kevin Durant got the best out of his game thanks to the Golden State Warriors, but he also made them a much better team, to be honest. He's got the size to play and guard all 5 spots in the court, has improved as a rim protector, and is one of the greatest scorers ever, regardless of what you may think of him.
PF: Draymond Green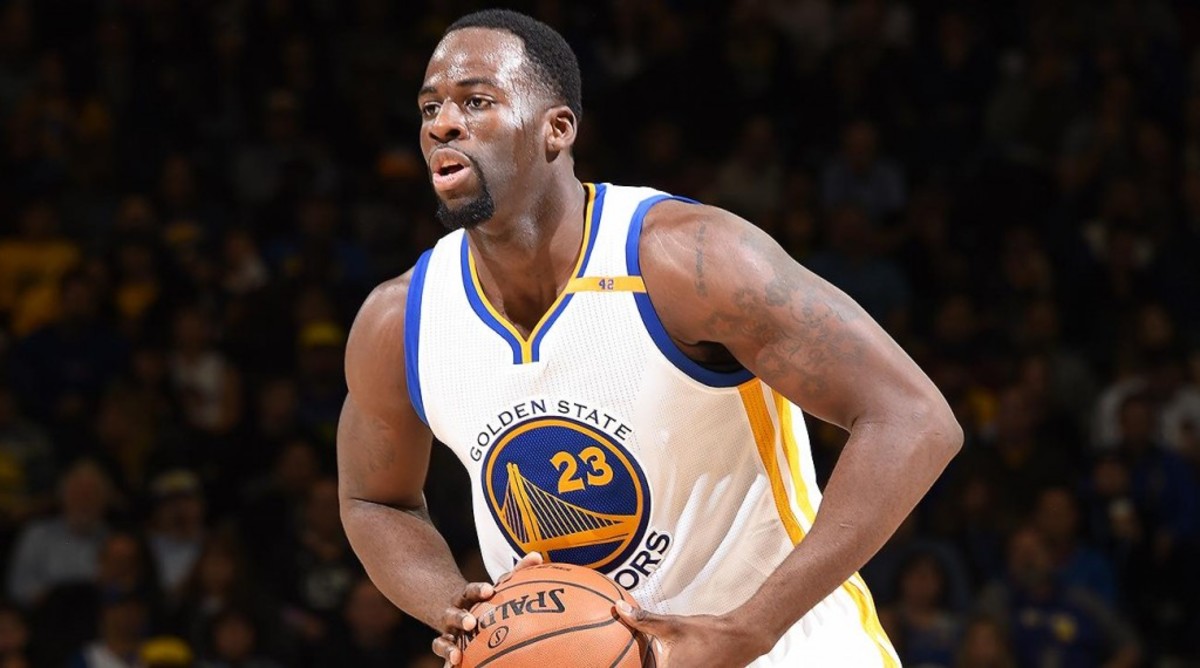 Love it or hate him. There's no in-between. Draymond Green is the most versatile defender in the world, a hard-nosed competitor with a great feel for the game, an outstanding playmaker for his size and a guy that's not afraid to put his body in the line on every loose ball. He's a major X-Factor.
C  DeMarcus Cousins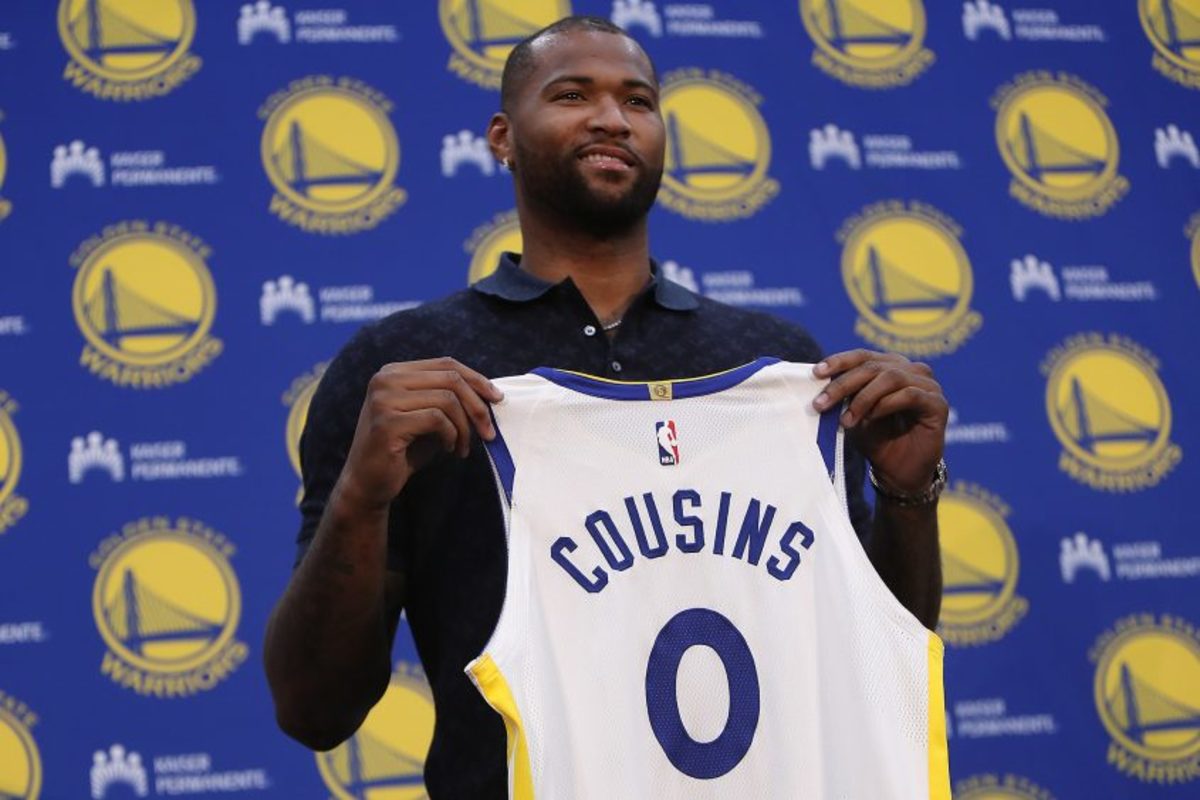 The rich keep getting richer. Like it or not, it is what it is. DeMarcus Cousins is bound to make this team one of the strongest dynasties ever as if they needed more help. Cousins was playing the best ball of his career before suffering a season-ending injury but has the offensive tools to be the most prominent scoring big man in the league.
Bench: Andre Iguodala, Shaun Livingston, Jordan Bell, Nick Young, Quinn Cook
The Dubs' second unit features a former Finals MVP in Andre Iguodala, a strong, fast and physical defender that could lock down the best wings in the world, as their first guy off the bench. That's just insane.
Also, we find Shaun Livingston and Jordan Bell, two top-notch switchable defenders that can match up against the smaller opposition, play below the rim and even guard all the way to the perimeter.
On top of that, Quinn Cook brings a lot of energy off the bench as a second ball handler, while Nick 'Swaggy P' young has the green light to do what he loves the most: hog three pointer after three pointer.
Team USA 2016
Coach: Mike Krzyzewski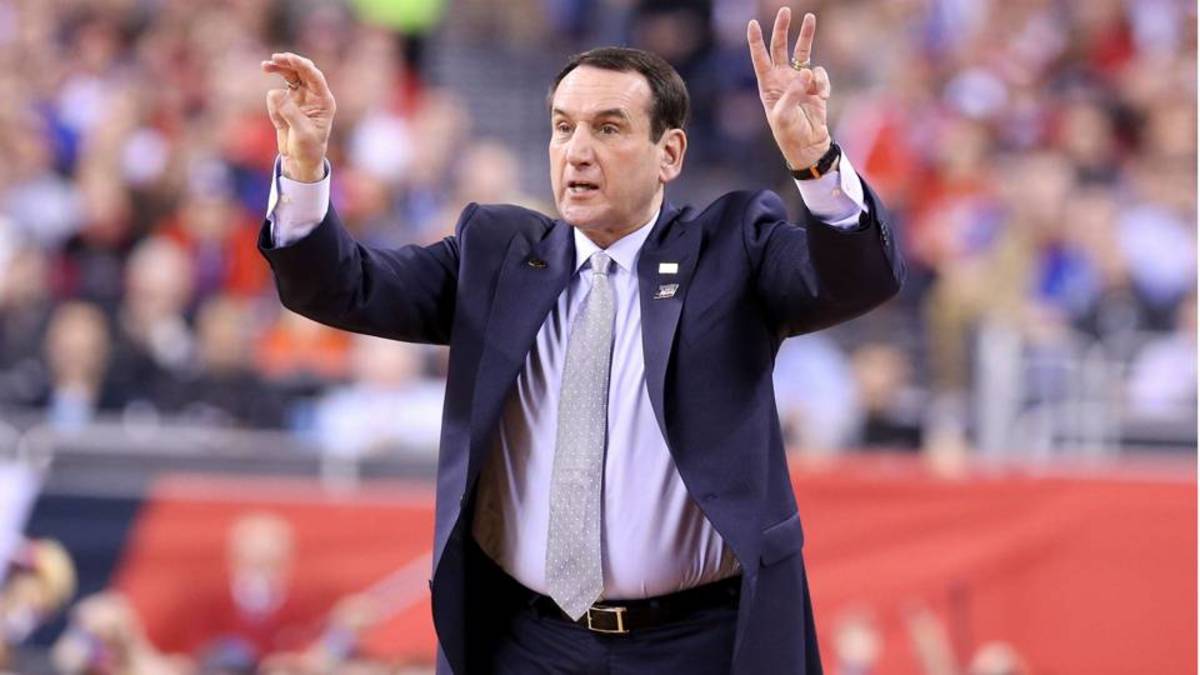 PG: Kyrie Irving
There's been a huge debate on whether Kyrie or Steph is better. We would just love to have either on our team. Irving has the best handles, and his crossovers remind us of a young Allen Iverson. He's an offensive stud, an underrated passer, and the guy most likely to put you on skates.
SG: Jimmy Butler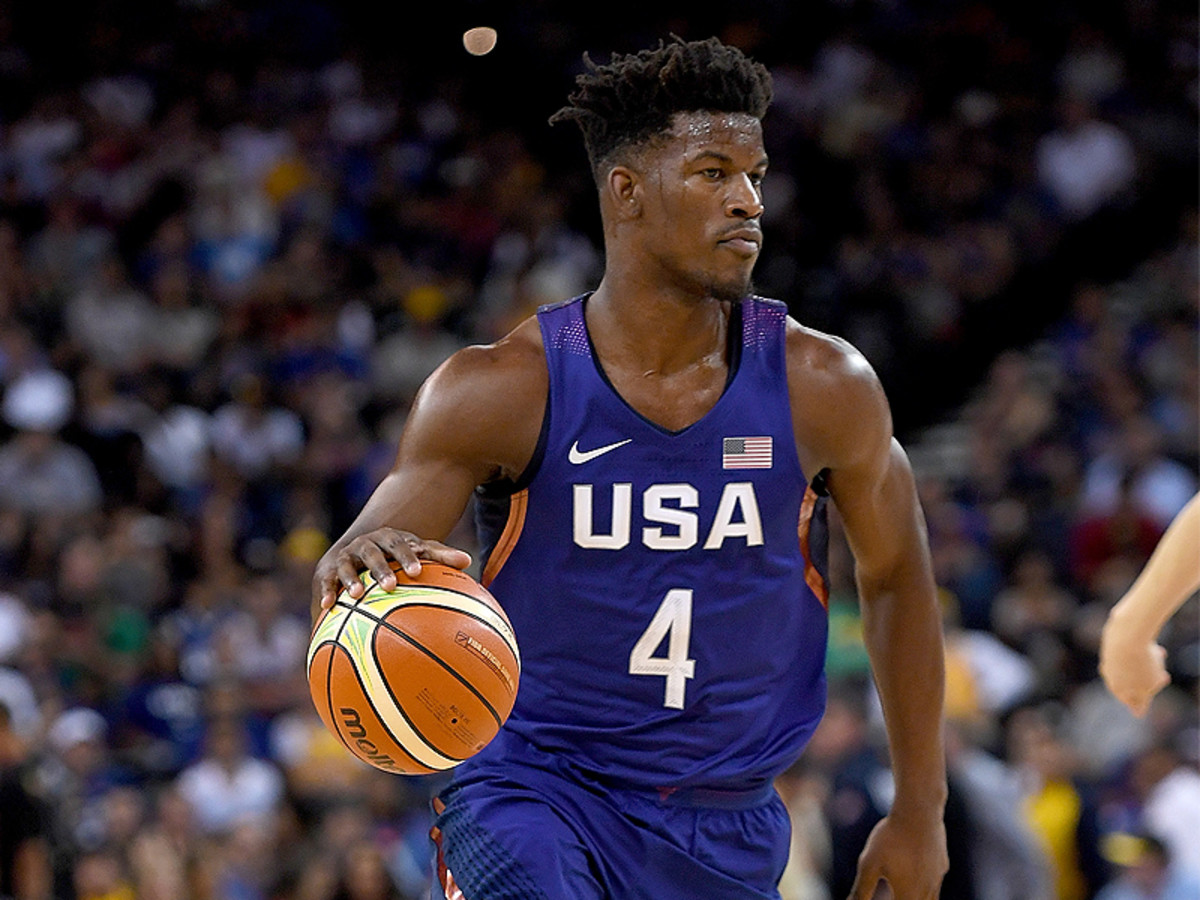 Talking about two-way studs, we have to talk about Jimmy Butler. Butler isn't the best three-point shooter in the league but makes up for it with freak-like athleticism and a lot of strength to finish through contact and draw fouls. Also, he's an outstanding wing defender that can guard both guard and forward spots.
SF: Paul George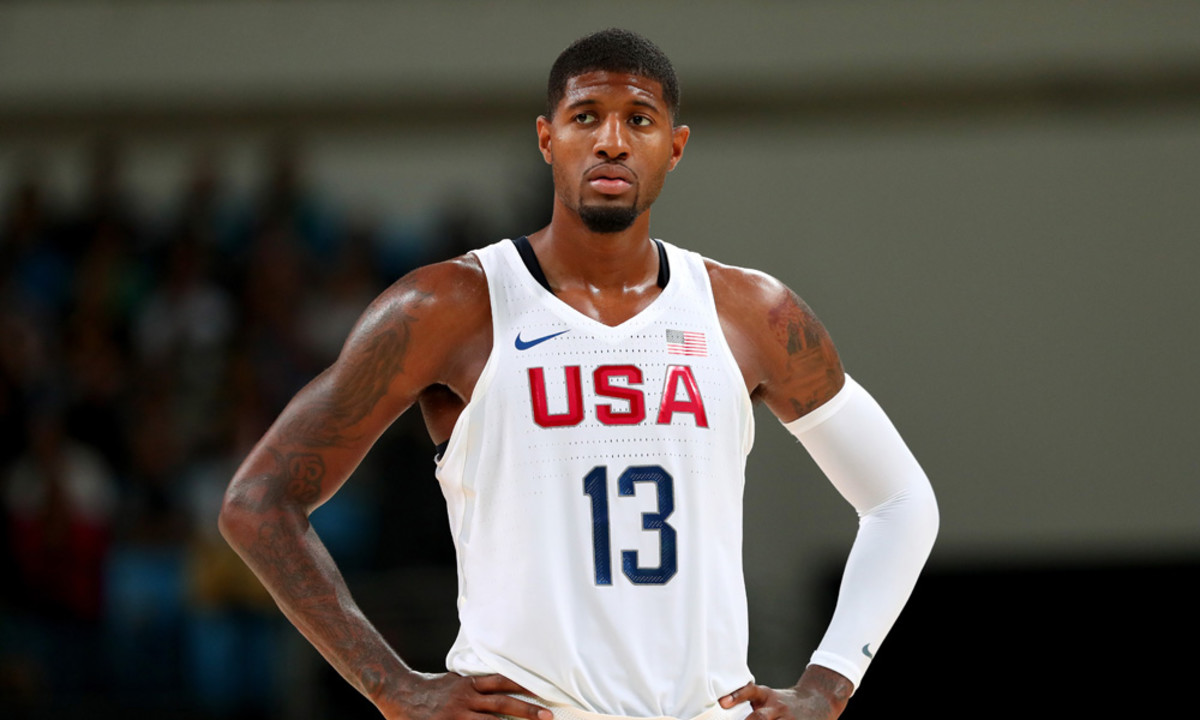 Paul George has made great strides to improve as a defender, and he's found a lot of success. He's deadly in passing lanes and creates a lot of turnovers out of deflections. When it comes to his offensive talent, there's nothing we can say you already don't know. He's just automatic from all three levels.
PF: Carmelo Anthony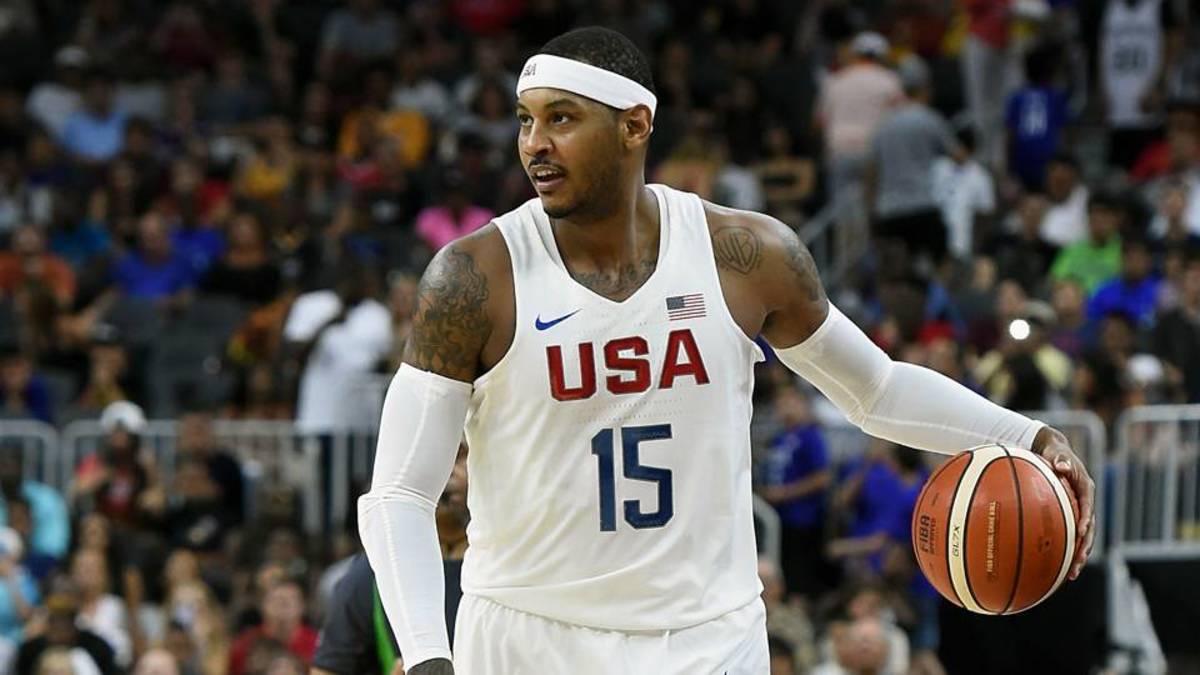 Carmelo Anthony is no natural power forward but has the size and strength to successfully do it. He's one of the greatest scorers ever, especially when playing for team USA. He posts up with great ease and has always been money from beyond the three-point land, although he's never going to be much of a defender.
C: DeAndre Jordan
If you want an athletic freak to protect the rim, you've got to turn to DeAndre Jordan. Jordan is one of the most dominant rebounders in the league ever since holding onto the Clippers starting center spot, not to mention his cirquesque ability to finish lobs and posterize his opposition, and his great defensive awareness and length that make him a top-tier rim protector.
Bench: Kyle Lowry, DeMar DeRozan, Harrison Barnes, Kevin Love, Dwight Howard
This second unit features a tandem that showed a lot of chemistry throughout their entire career in Kyle Lowry and DeMar DeRozan, a couple of willing facilitators and fierce scorers that really complement each other.
Harrison Barnes knows this time from the inside, and even though he never took the next step forward in his development, he's still a very solid small forward that can affect both sides of the game.
To round up the frontcourt, Dwight Howard takes a stand as the team's backup rim protector and dominant rebounder, while Kevin Love is able to stretch the floor with his ability to knock down shots from downtown.
Read More
The Game Everyone Wants To Watch: King Squad vs. Black Mamba Team
5 Reasons Why Kobe Bryant Should Come Back And Play For The Lakers
Ranking The Top 15 Best Draft Picks In NBA History
Prediction: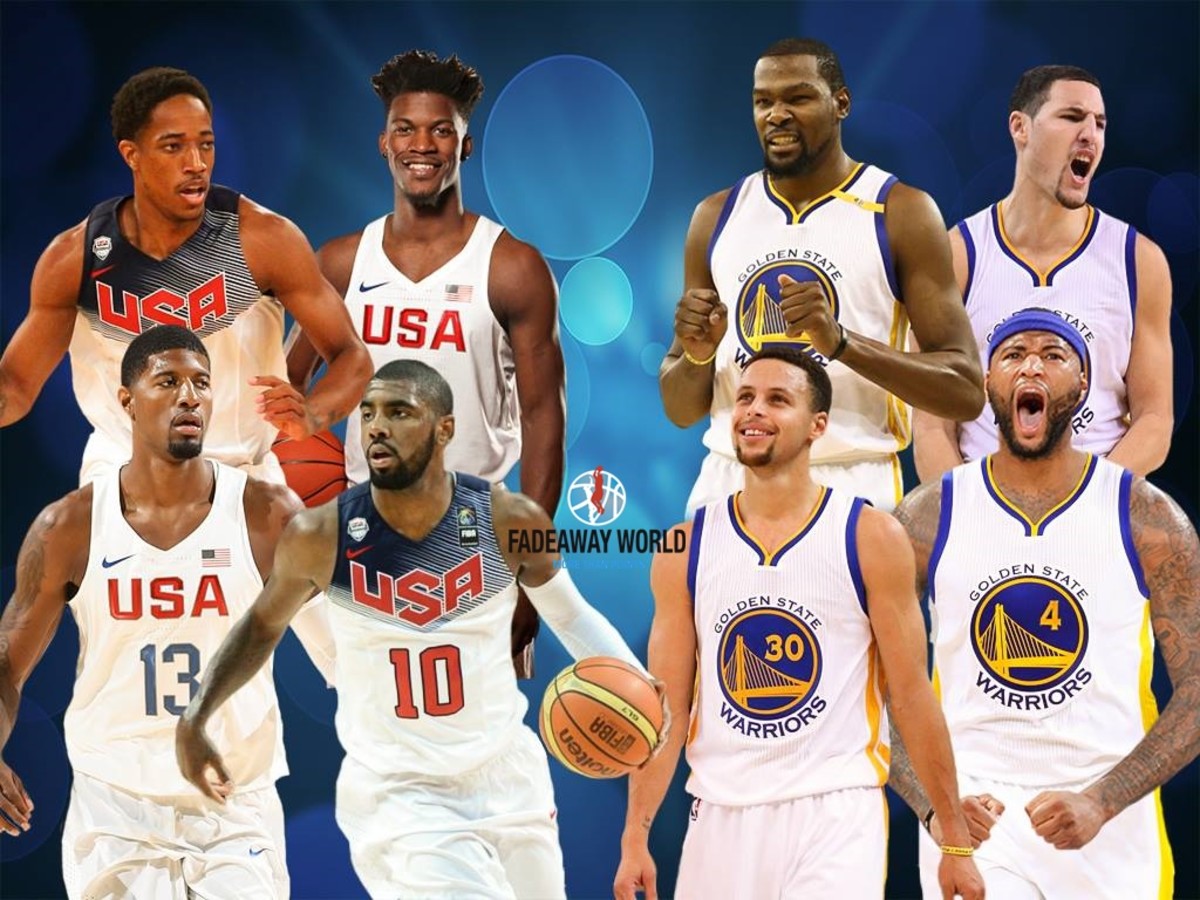 Game 1
Game 1 finds everybody rooting for Team USA and overconfident Warriors got off to a sloppy start of the game. Turnover after turnover, Paul George and Kyrie combine for 50 1st half points en route to a 15 point lead. Coach Kerr turns to his death lineup and sends DMC to the bench, but it just isn't enough to contain an inspired Uncle Drew who winds up scoring 45 on them. At the end of the game, the score shows a 120-110 triumph for Team USA, despite Curry's 29, Klay's 25 and Durant's 20-10.
Game 2
After addressing most of his haters on social media, Kevin Durant returns to the stage with the determination to prove everybody wrong and carry the team to a victory. The Dubs jump to an early 12 point lead and coach K calls a timeout. Smallball time, K-Love in, Jordan out. This one goes down to the wire. Durant already has 30 and the chance to win it before heading to overtime, but Butler blocks his shot from behind and throws an outlet pass to Anthony, who banks a mid-range shot. 110-108, Dubs down 0-2.
Game 3
It's now or never for Golden State. Coach Kerr starts the game with Durant at Center and Iguodala at the 3, Coach K answers back with DeRozan at the 2 and Melo to the bench. The USA jumps to a double-digit advantage at half once again. As the 2nd half begins, Splash Brothers caught fire and the Dubs completely torch their opposition, as they're used to do on 3rd quarters. Opening with a 32-9 run, the Dubs wind up taking a 125-97 victory despite DeRozan's 27-7-7.
Game 4
The Dubs are back in business and they just made this a series, and team USA starts to feel the pressure. Kyrie turns the ball over 5 times in the first half, and his squad trails the Warriors by 17 at the half. They try to match up with their pace and space style of play, but Jordan Bell and Draymond Green combine to completely lock down defensively. Garbage time, Nick Young is in; shoots a wide open 3, turns around and celebrates, but misses. Still, Dubs win 130-100.
Game 5
We're tied and the Dubs feel in complete control of the situation. Skip passes, flashy dribbles, 30 feet three-pointers. They just can't miss. 2nd half comes and George and Kyrie get hot, just like during game 1. The tandem combines to score all of the 33 points of their team in the 3rd quarter, and we head to the 4th with a tie. After 48, we're still tied and headed to overtime. Team USA has a chance to win it at the buzzer, with Barnes going to the line after Draymond fouled out of the game. Makes the first, misses the second, Durant grabs the rebound and throws it to Curry, who pulls up from halfcourt. Money. Warriors win 133-131.
Game 6
Team USA looks demolished after blowing a 0-2 lead against the Warriors, who look as confident as ever. Klay scores 20 first-quarter points, Curry goes 3-3 from three and Durant blocks George a couple of times in back-to-back plays. PG is a major no-show for most of the game, so Coach K sends DeRozan to the hardwood to replace him. Next to Lowry, they both choke as they usually do, and the Warriors are throwing alley-oops and no-look passes. They know they got this one in the bag. The buzzer sounds, Warriors win 115-88.